How To Get Windows Phone 7 Unlock Key For HTC HD2 In Most Countries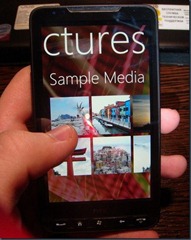 If you have installed Windows Phone 7 on your HTC HD2 and your country does not seem to have a call center for you to get the unlock key to enable Microsoft Live Services including XBox Live and Marketplace on your phone, you can now follow this easy guide to get it.
If you haven't yet heard of Windows Phone 7 being successfully ported to HTC HD2, refer to our guide on installing Windows Phone 7 on HTC HD2.
We have to thank XDA-Developers forum member akshay2000 for sharing this guide with us. He noticed that while Microsoft may not have a dedicated website for every country in the world, it does have help centers in most countries where you can call and get support for your Microsoft products. You can see for yourself how simple the process is:
Visit https://www.microsoft.com/worldwide/ and under 'Contact Information', select your country and click 'Go'.
Call on one of the phone numbers at the contact information page for your country.
In most countries, an automated IVRS (Interactive Voice Response System) will answer your call. In that case, wait for the last option saying something similar to "Press <a number> to talk to a technical support representative", and press that number.
Once an agent picks up, he/she will ask you for your Windows Live ID and possibly some other information as well. Provide all the information correctly.
Tell the person that you want to activate your HTC HD7 (do NOT say HD2). If the person tells you that you are in the wrong department, ask him/her to transfer you to the appropriate section.
The person will confirm your Windows Live ID and give you your 25 digit activation key. Make sure to write it down carefully.
In case the agent does not know how to help you, tell him/her to see the Microsoft Knowledgebase article at https://support.microsoft.com/kb/2431699. You can also contact XBox Live support for the key, telling them you were asked for the key when accessing XBox Live from your HTC HD7.
Note that this method may not work for you if you live in a country where HD7 hasn't been launched.
[via XDA-Developers]