How To Install Amon's RA Passion v2.2.1 Custom Recovery On Nexus One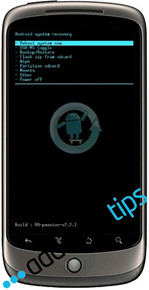 So if you've found your way here, it's possible you already know what custom recoveries offer, and there's a slight chance you've heard about Amon's RA custom recovery or ClockworkMod recovery. Well, regardless of whether you're familiar with these recoveries or not, this guide is intended for the owners of Nexus One wishing to flash the RA Passion V2.2.1 recovery; which is the latest version out right now, onto their phone. For installation instructions, read on!
Disclaimer: Please follow this guide at your own risk. AddictiveTips will not be liable if your device gets damaged or bricked during the process.
Requirements:
Instructions:
To begin, enter the following commands in the Terminal Emulator pressing Enter after every command:

su

mount -o remount,rw /dev/null /system

mv /system/recovery-from-boot.p /system/recovery-from-boot.p.bak

mv /system/etc/install-recovery.sh /system/etc/install-recovery.sh.bak

reboot

After the phone reboots, copy the recovery image downloaded from the link above to the root of your SD card.
Then run Terminal Emulator once again on your phone and enter the following commands pressing enter after each line:
su

flash_image recovery /sdcard/recovery-RA-passion-v2.2.1.img

reboot recovery
All done! your phone will now reboot into recovery mode. Congratulations you have now installed, RA Passion custom recovery to your Nexus One and can now install and flash customs ROMs and kernels etc.