How To: Install Android 2.2 Froyo On Motorola Droid X [Rooted/Unrooted Handsets]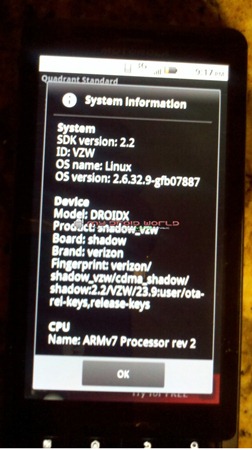 The wait is over for Motorola Droid X owners trying to get official Droid X Android 2.2 Froyo. Folks over at My Droid World forums have been able to grab the official Android 2.2 Froyo for Motorola droid X zip file and have also posted the step by step guide on installing updating your Droid X to Android 2.2 Froyo.
UPDATE: Android 2.3 Gingerbread is officially available for Droid X now and Froyo should be considered obsolete on this phone now. For installing Android 2.3, see our guide on updating or restoring Droid X to Gingerbread.
Old and Now Obsolete Guide:
Here are the step by step instructions straight from My Droid World Forums. (Note: Almost all the download links in this guide have become dead by now. Thus all links have been removed to avoid confusion. The information is kept here only for reference.)
…IMPORTANT:
Step 1:
This is a leaked ota upgrade in the update.zip format. This is not a ROM or a port. This will upgrade both your baseband and your system. You will not need to wipe date.

The only way this update will work for you is if your phone is back to stock

(you MUST be rooted already if you want to be rooted after the upgrade).
If you have themed your phone you need to convert it back to stock
If you have removed bloatware you must put it all back.

Step 2
Do you want to be rooted?
1) If no skip to next step.
2) If yes and already rooted skip to next step.
3) If not go here and follow these direction. —–> Root Droid X
STOP: YOU MUST VERIFY THAT YOUR SU IS LOCATED IN THE XBIN NOT THE BIN
I suggest using Root Explorer as it is the easiest was to do it: Get it in the MarketPlace
open rootexplorer
navigate to the /system/bin folder and hold down the su file, then select move
navigate to the /system/xbin folder and press the menu button (4 squares)
select edit and then paste
Step 3
So have you gotten back to stock:
If Yes proceed to step 3,
if No then proceed below.
If you don't know which files you need or which ones to put back, you can use the sbf to put your phone back in a stock state. You can go here to get details of how to return to stock via sbf file. ——> Droid SBF
After you return your phone to its stock state go to step 3.
Step 4
Now we need to download Froyo for the Droid
Link One – Download Now
Link Two – Download Now
Mirror One – Download Now
Mirror Two – Download Now
Place the file you have downloaded on the root of your sdcard.
Step 5
Reboot your phone in recovery mode:
1) Hold down the home button and the power button.
2) When the triangle with the android appears press the search button (far right button)
3) Select apply sdcard:update.zip
4) sit back and wait (5 – 10 minutes)
5) restart your device.
Your phone will now be running 2.2.6 (Froyo Rooted)…
Disclaimer: Please attempt this guide at your own risk. AddictiveTips won't be responsible in case your device bricks or any other damage occurs due to this method.