How To Install Android Market & Google Apps On Kindle Fire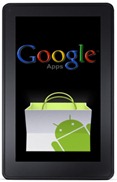 The Kindle Fire Gingerbread tablet is for sure on fire! Earlier we covered a guide on how to root the Kindle Fire and that has paved the way for what may be endless possibilities for the awesome tablet. Google Apps along with the much important Android Market, have now been ported to the tablet, making sure that the device is a huge hit amongst Android fans, and possibly hope to take on the iPad 2 considering the price difference. However, Google Apps and the Android Market can now be installed on the tablet and we're here to show you just how you can do that! Of course, credits to Jolleyboy over at XDA-Developers for sharing his method with us that seems to be working out quite nicely.
Here's the break down of the apps you the app package Jolleyboy has provided, carries:
Google Services Framework
Android Market
Books
Voice
Maps
Google+
Reader
Gmail
Street View
Youtube
GTalk
Netflix
Pandora
Dolphin Browser
Go Launcher
Disclaimer: Please follow this guide at your own risk. AddictiveTips will not be liable if your device gets damaged or bricked during the process.
Requirements:
Instructions:
To begin, download the Google Apps from the link above and extract them. Download the Market Icon as well.
Connect the Kindle Fire to your computer in mass storage mode and copy the apps to a recognizable folder on the root of your SD card.
Once copied, remove the device as a storage device and run ES File Explorer on the device. Browse to the folder with all the apps and select GoogleServicesFramework.apk to install it.
Once installed, restart the device.
Now go ahead and repeat Step 3 for all the apps you want installed on your device except for Vending.apk.
Moving on, time to install the Android Market app which is slightly tricky. So be sure about what you're doing as this involves pushing the Vending.apk to the /System/app folder on your device.
In ES File Explorer, make sure to enable Root Explorer and Mount File System, so that you have complete read/write access in the /system partition.
Browse to Vending.apk and copy the app to /System/app.
Once copied, keep the file pressed and select Properties. Change the permissions of the file to: User= Read, Write | Group= Read | Other= Read.
All done, simply reboot the device now.
Once done, install the MarketOpener.apk as well via ES File Explorer. This app will allow you to see the Android Market icon in the Kindle UI which was not possible earlier and alternate Launchers had to be used.
That's all! Try to launch the Market and incase it force closes after restarting, navigate to Settings > Applications > Third Party to find Market in the list. Select it, clear all data for it and try again.
For updates and queries, visit the forum thread at XDA-Developers.