How To Install ClockworkMod Recovery On Notion Ink Adam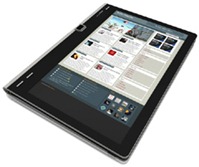 ClockworkMod Recovery is a custom Android recovery system that gives you a lot more features compared to the stock recovery shipped with most devices and now, you can install this custom recovery on your Notion Ink Adam tablet. More details and installation instructions after the jump.
ClockworkMod recovery not only opens up a complete chapter of customizations to come in the future, it also immediately provides you with the following features previously unavailable on the stock recovery:
Installation of unsigned custom 'update.zip' files.
Installation of custom ROMs and app packages.
Nandroid Backup and Restore.
Mounting system , SD card & data without booting the Android OS.
Wiping cache / Data reset.
To learn more, refer to our guide on ClockworkMod Recovery.
Disclaimer: Flash at your own risk. Addictive tips will not be responsible if your device gets damaged or bricked in the process.
What you'll need:
ClockworkMod 2.5.1.8 (if you want to install ROMs up to Froyo including Cyanogemod 6.*) OR ClockworkMod 3.0.0.5 (in case you want to install Gingerbread or later ROMs including CyanogenMod 7.*)
Mounting priority on your device needs to be External SD card first and then Internal SD card.
How To:
Download the above mentioned version of your choice.
Rename the file to 'update.zip'.
Mount your SD card and copy the file to the root of your SD card.
Unmount cleanly.
Power off your Notion Ink Adam.
Hold Volume Up button and then the Power button to boot into stock recovery.
Apply SD card: update.zip.
Reboot after the installation is complete.
Hold Volume Up button and then the Power button to boot into ClockworkMod.
Congratulations! You now have the famous ClockworkMod recovery installed on your Notion Ink Adam. You can check up with the Notion Ink Hacks (site down) team for upcoming customizations and modifications. In case of any issues, please report to the XDA-Developers thread.
[via Notion Ink Hacks]