How To Install EdenX Alternative Firmware On Notion Ink Adam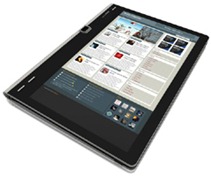 The Notion Ink Adam comes installed with Eden – the default interface designed by the manufacturer itself. While Eden itself is a pretty neat interface to work on, there's always room for customization. The Notion Ink Hacks team have developed a modified version of the same Android firmware. If you are interested to try it out, please read on:

Features:
EdenX comes with the following features previously not present in the stock Eden:
Rooted
Google Apps added
ADHOC networking
Frame rate increase from 50 to 60fps
Gingerbread Keyboard
SuperUser app
Youtube app
Home Switcher, incase you prefer some other launcher. Two more launchers already added to switch to.
Live wallpapers added
VOLD fix for Linux users which removes the extra drive letter and allows you to copy data on the SD card without corruption.
Disclaimer: Flash at your own risk. Addictive tips will not be responsible if your device gets damaged or bricked in the process.
What you'll need:
How to Install:
Download the RAR image for your device model.
Mount your device's SD card and unRAR the image onto the root of the card.
This will give you a file called 'update.zip/ on the device and a folder called \recovery\command.
Unmount the SD card cleanly.
Power off your device.
Hold the Volume Up button and press the Power button to boot into stock recovery.
To avoid any Force Closes and issues after the update, it is recommended to do a Hard reset/Data wipe on the device. However ADB should not be used to wipe the data or you will get stuck at the boot logo.
Apply SD card update: update.zip.
Reboot when done.
Congratulations! EdenX is now installed on your Notion Ink Adam. Enjoy using it on your device and if you face any issues, feel free to report them on the developer's thread over at Notion Ink Hacks (site down).
[via Notion Ink Hacks]