How To: Jailbreak iOS 4.0 On iPhone 4 With Jailbreakme
Got yourself an iPhone 4 and been waiting for a way to jailbreak it on iOS 4.0? We've got some great news for you! Your wait is now over and Comex has finally released the super-easy, one-click jailbreak method, the famous JailbreakMe for iOS 4.0 on iPhone 4. Excited? Can't wait any longer? Continue reading after the jump for more information and the complete guide.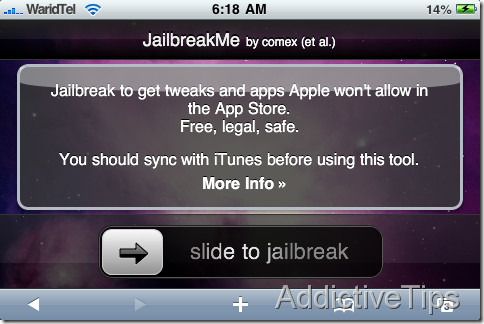 JailbreakMe is undoubtedly and hands down THE easiest jailbreaking method out there. It's so easy, a child can do it; no other method comes even close. All it basically requires is for you to visit the JailbreakMe website and follow the on-screen instructions there. Can't be any simpler, now can it?
Had enough details and want to get jailbreaking? Let's get on with it!
Disclaimer: AddictiveTips won't be liable for any damages that may incur to your device during the process.
Here are the step by step instructions on jailbreaking your iPhone 4 on iOS 4.0 using JaiilbreakMe:
The first step is to connect your iPhone 4 to the computer, launch iTunes and sync your device and backup your music, contacts, apps etc.
Once this is done, restore your iPhone 4 to official iOS 4.0 through iTunes.
Once your phone reboots, connect your phone to a Wi-Fi network by going to Settings > Wi-Fi > Choose Network.
After your phone connects to internet over Wi-Fi, open safari and type "https://www.jailbreakme.com".
You will be greeted with the screen as shown in the screenshot above. Simply 'slide to jailbreak' as per the screen instructions.
This will start the jailbreaking process. Wait for the tool to download. You don't have to do anything else at the moment; just let the jailbreak download and execute on it's own.
Once the jailbreaking process is complete on your iPhone 4, you will get the following message " Cydia has been added to Home Screen". You can confirm this by going to your home screen and making sure you can find the Cydia icon there, as shown below.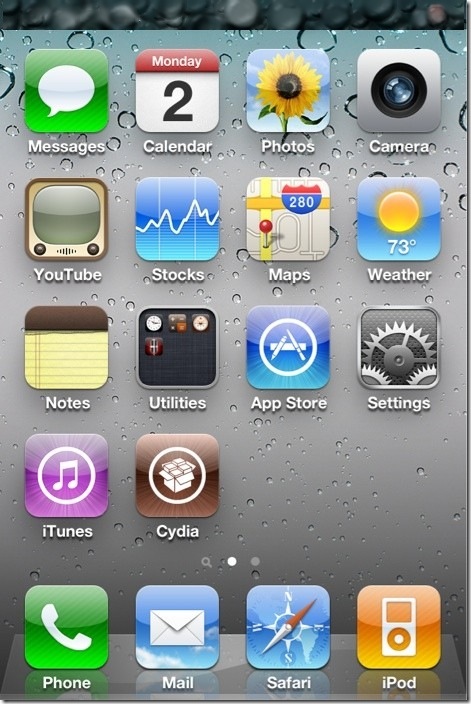 And there you go! You have successfully jailbroken your iPhone 4 with what we call as the most painless jailbreak method ever. You can now install all the jailbreak-only hacks and apps on your phone and take it beyond what Apple wants you to do with your device. Always feels great to break free from the ridiculous limitations enforced upon you by others, doesn't it?
What do you think of this jailbreaking method? How did the experience go for you? Don't forget to let us know in the comments below.