Get Root Access On Asus Transformer Honeycomb Tablet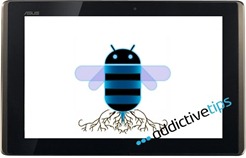 Asus Eee Pad Transformer is an affordable Android 3.0 Honeycomb powered by the Nvidia Tegra 2 processor, giving it quite a potent punch in light of its competitors. Apparently the tablet has been short of supply in the market with only a rare few people being able to get their hands on it. For those who did, we have confirmation of the device being rooted. Read on for more on how to root your Asus Eee Pad Transformer!
Credits:
–RaYmAn (phrasing, editing blobs, coding tools and Ideas).
–Bumble-Bee (Editing  GingerBreak, Building CWM recovery and Ideas).
–Guhl (Compiling the new gingerbreak as bumblebee fail).
–Stridger (Testing, Ideas, General Help, and more testing).
–Roebeet, Ryan45, DJ_Steve (Spell and fact checking, input for ideas, general encouragement).
The root is achieved via some commands entered in the terminal or command prompt so if you have basic knowledge of terminal commands, achieving root access on your Transformer should be a breeze for you. However if you're new to rooting, you should know that not only will you lose all your data on the microSD card, but all future OTA updates will be compromised as well.
For the root, you will first of all need to have ADB installed and running on your system. See our complete guide on what is ADB and how to install it on your system.
Once done with setting up ADB as told in the guide, head over to the original guide at AndroidRoot.mobi for the latest and updated instructions. Over there, you will also find download links to the files needed for root.