How To Root Android 2.3 Gingerbread Using GingerBreak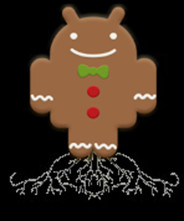 Rooting Android devices on 2.3 Gingerbread Stock ROMs may just have been simplified to an almost one click method with GingerBreak and it's close to a universal solution for most phones, but we can't confirm all of those. We tested it out on our HTC T-Mobile G2 running the leaked 2.3.3 Gingerbread from HTC, and it worked liked a charm and there have been people who report it to be working for the Sony Ericsson Xperia Arc as well. Of course there will be devices that this solution may not work on for now, but hopefully future updates may help cater it a larger variety of Android devices. Read on for more on how to use GingerBreak!
GingerBreak is an app developed by XDA-Developers forum member Chainfire that you install and run on your Android device, and let it do all the hardwork, pretty much in the same manner as z4root. Before you move onto using this app, there are a few things you should know before attempting to root:
You must have USB debugging enabled on your device.
You need an SD card installed on your device.
The app must be installed on the device and not the SD card.
The exploit could take up to 10 minutes but not any longer.
Now let's move onto using the app to root your device.
Disclaimer: Please follow this guide at your own risk. AddictiveTips will not be liable if your device gets damaged or bricked during the process.
After installing the app (download from the link at the end of the guide), simply select Root Device and let the app work it's magic. When you do so, you may be presented with an error, simply reboot your phone and check if the superuser app is installed. We proceeded to install ROM Manager as well and consequently were able to flash the ClockworkMod Recovery 3 aswell. Pretty convenient, and worth a shot we'd say.
Edit:
On some phones that don't allow app sideloading, installing the app from the APK file directly will not be possible, and will require the use of ADB for the purpose. To do this:
Install ADB if you don't have it already. See what is ADB and how to install it.
Enable USB debugging on your phone from Settings > Applications > Development.
Connect your phone to the PC in charge-only mode.
Launch a Command Prompt window and browse to the location of the downloaded GingerBreak-v1.10.apk file.
Finally, enter this command:adb install GingerBreak-v1.10.apk
Having done this, you should be able to launch the app on your phone and root it using the above instructions.
For updates and queries, and to download GingerBreak, visit the forum thread at XDA-Developers.