How To Root AT&T Galaxy S II Skyrocket With SuperOneClick
T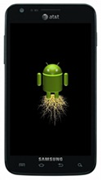 he SuperOneClick app that has possibly been an Android user's favorite rooting solution since over a year now, has finally been released with the popular ZergRush exploit which can be found in almost every other rooting method for the latest Android handsets out there. Personally, I miss those good old ADB days of manually pushing files and more, but that's me. The best rooting method is undoubtedly the one that gets the job done quickly and without requiring much effort on part of the user or for that matter a novice Android user, minimizing the risk factor. Forum members at XDA have reported SuperOneClick to now be working with the AT&T Galaxy S II Skyrocket gaining root access on the device in no time.
So if you haven't already rooted your Galaxy S II Skyrocket, SuperOneClick is the advised way to go!
Disclaimer: Please follow this guide at your own risk. AddictiveTips will not be liable if your device gets damaged or bricked during the process.
Requirements:
Instructions:
To begin, make sure the drivers are properly installed and USB Debugging is enabled in Settings > Applications > Development on your device.
Extract the SuperOneClick zip package and then connect the device to the computer. Make sure the device is not connected as a Storage device.
Now run SuperOneClick.exe and choose zergRush as  the exploit.
Once the exploit is set and the device is connected, hit the Root button to begin the rooting process.
Your device should be rooted in a couple of minutes now. For updates and queries, head over to the forum thread at XDA-Developers.