How To Root Epic 4G And Install ClockworkMod Recovery In One Click
Earlier we had covered a guide on how to root the Samsung Epic 4G in one click but that one-click tool has become obsolete with most people unable to achieve root access on their devices via that tool. This new One Click Root not only works but also brings ClockworkMod recovery to the Epic 4G, which means when you're done rooting your device, you will also have the latest ClockworkMod recovery installed for all your custom ROMs and kernel flashing needs. More on the One Click Root after the jump!
If you are new to rooting and our still contemplating on whether to root your device or not, reading our top 10 reasons to root your Android device may just help you out with reaching a decision.
Now the tool was originally developed by XDA-Developers forum member Dameon87's but XDA-Developers forum members Rodderik and DRockstar have tweaked it up further. Please note that this tool has only been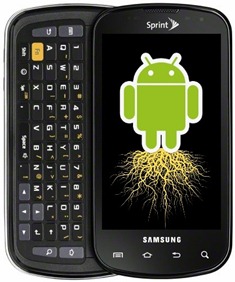 tested on Froyo and Éclair based ROMs for now.
Let's list down the features that are bundled up in this One Click Root.
Dual file system support (RFS & EXT4).
Koush's latest hacked adbd.
ClockworkMod recovery v3.0.2.5.
Superuser installed.
Busybox installed.
su.
ROM Manager compatible.
The tool even works for Mac and Linux based systems as well. The guide will cover all three platforms, Windows, Mac and Linux, so let's get on with some speedy rooting!
Disclaimer: Please follow this guide at your own risk. AddictiveTips will not be liable if your device gets damaged or bricked during the process.
For Epic 4G Running Up to Froyo (See below for Gingerbread):
Requirements:
Instructions
Make sure all USB drivers and ADB are installed properly, USB debugging is checked and the phone is connected to your computer.
Windows
Extract the One Click Root zip file and run the run.bat file.
Follow the onscreen instructions and you'll have root access on your device in no time!
Linux / Mac
Extract the One Click Root zip file to a folder and then run the terminal.
In terminal, navigate to the folder where you extracted the One Click Root tool and enter the following commands:

chmod 777 run.sh

./run.sh

Now simply follow the on screen instructions to gain root access on your Epic 4G.
For updates and queries, visit the forum thread at XDA-Developers.
For EPIC 4G Running Gingerbread:
Instructions:
The above method does not work on Gingerbread. To root your EPIC 4G if it is on Gingerbread, visit our ClockworkMod Recovery 5 installation guide for EPIC 4G and follow the ODIN method to install it, and then follow the rooting instructions given at the end of that guide.