How To Root HTC Desire Z [ADB Method]
We don't really know if you got your HTC Desire Z until now, but we have got the root for you already! Folks over at XDA Forums are pretty swift on grinding their cell phones to brink, which subsequently helps users like us to gain complete access of our handsets. Following the same rooting route as T-Mobile G2, Desire Z now has a temporary root.
A temporary root usually means that you have to re-root your handset once you reboot it. The similarity of rooting procedure between HTC T-Mobile G2 and HTC Desire Z rest on the fact that both these cell phones are same models but will different carrier brandings. Ok, let's cut the talk short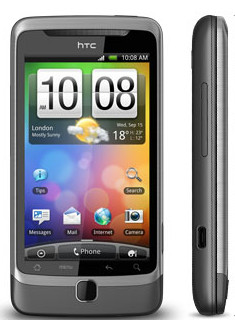 and jump straight into pwning your HTC Desire Z:
Please note that we have not self-tested this rooting method and are simply conveying what we unearthed on "as it is basis". We will strongly recommend you to stay away from this Rooting procedure if you don't have prior experience of command line rooting through ADB or Terminal Emulator.
1. The first step is to download HTC Desire Z root package and save it on your desktop.
2. Once this is done, connect your phone to the computer and copy downloaded package in "temproot" folder in your SD Card.
3. Now launch Terminal Emulator on your phone and execute the following script:
#!/system/bin/sh
cp -R /mnt/sdcard/temproot/* /data/local/tmp/
cd /data/local/tmp/
chmod 755 *
./rageagainstthecage-arm5.bin
ps
4. Once this is done, close the Terminal Emulator and restart it.
5. Now execute this script:
#!/system/bin/sh
/data/local/tmp/busybox killall rageagainstthecage-arm5.bin
mount -o rw,remount -t ext3 /dev/block/mmcblk0p25 /system
/data/local/tmp/busybox cp /sdcard/temproot/Superuser.apk /system/app/Superuser.apk
/data/local/tmp/busybox cp /sdcard/temproot/su /system/bin/su
/data/local/tmp/busybox cp /sdcard/temproot/busybox /system/bin/busybox
chmod 4755 /system/bin/su
chmod 4755 /system/bin/busybox
mount -o ro,remount -t ext3 /dev/block/mmcblk0p25 /system
There you go! You now have your HTC Desire Z temporary rooted. According to the root author, you can even root this handset through ADB but the instructions for that are not out yet. In case the above guide doesn't make sense to you then please wait for a simpler –1 Click Root Method for HTC Desire Z to surface. Unfortunately, there are no custom ROMS available for Desire Z that you might install after rooting, but folks over at XDA are positive that you can port T-Mobile G2 stock Rom on this handset. We will keep you updated on Desire Z Android development and will post easier root as soon as it is made available.  In case you have any issues with this root, we encourage you to consult the official XDA Thread posted here.
Disclaimer: Please attempt this guide at your own risk. AddictiveTips won't be responsible in case your device bricks or any other damage occurs due to this method.