How To Root Motorola Atrix 2 In A Single Click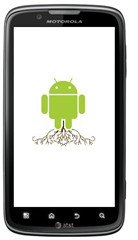 Those of you who just bought the latest Atrix 2 from Motorola, are in luck. The device running Android 2.3.5 Gingerbread has been successfully rooted. This has been made possible thanks to MyDroidWorld forum member p3droid. Even better the rooting method involved here gives you the single click option without needing you to manually input commands via ADB. While the guides purpose is to prioritize the use of the single click method to root the Atrix 2, but we'll mention the manual method as well, just in case the single click method fails to work for you.
Do note that that this root method be it manual or the single click solution, does not install ClockworkMod recovery or for that matter any custom recovery on the Atrix 2. Alright, enough talk, let's get your Atrix 2 rooted!
Disclaimer: Please follow this guide at your own risk. AddictiveTips will not be liable if your device gets damaged or bricked during the process.
Requirements:
Instructions:
Single Click Method
To begin, make sure USB Debugging is enabled in Settings > Applications > Development and so is Charge only connection. Check Unknown sources as well.
Extract the appropriate One Click Exploit or Root for your version of Android to find a file named runme.bat (in case of Android 2.3.5), or Click-to-Root.bat (for the Android 2.3.6 version), and run it.
Running the file will begin the root process so sit back, relax and cross your fingers as the process completes.
Once it finishes, your phone will reboot and should be rooted upon the reboot.
Manual Method
To begin, download and extract Exploit.zip containing the exploit, su and Superuser to your desktop.
Open the folder that contains these files you extracted and hold the Shift key as you right click. Select Open command window here. Or else you can simply open terminal or command prompt and navigate to the folder manually.
Now enter the following commands:

adb push zerg /data/local

adb push su /data/local

adb push Superuser.apk /data/local

adb shell

cd /data/local

chmod 777 zerg

./zerg

Wait as root access is gained.
Now type in the following commands:

adb shell

mount -o rw,remount /dev/null /system

cat /data/local/su > /system/bin/su

cat /data/local/Superuser.apk > /system/app/Superuser.apk

chmod 4755 /system/bin/su

chmod 4755 /system/app/Superuser.apk

reboot
For updates and queries related to the rooting method, head over to the forum thread at XDA-Developers.