How To S–OFF HTC Sensation With Revolutionary [Guide]
Revolutionary, S – OFF and Recovery utility, from Unrevoked and Alpharev is perhaps the hottest topic of discussion right now among fellow Androiders. For those who don't know, Revolutionary is your one stop utility allowing you to gain S – OFF on your device [unlock bootloader] and recovery. After deploying this hack on your phone, you will be able too easily root your device, breeze through different roms, tinker with CPU speed and liberally deploy custom kernels. The good thing about this tool is it's easy adaptability as users will simply have to plug in their phone, make sure the drivers are present and then follow simple onscreen instructions to do the deed.
Release of this tool for HTC Sensation, the hottest Android phone nowadays, users a huge relief. There were temporary rooting option available before Revolutionary came, but most of them were frustrating non-sticky attempts at gaining complete control of the device.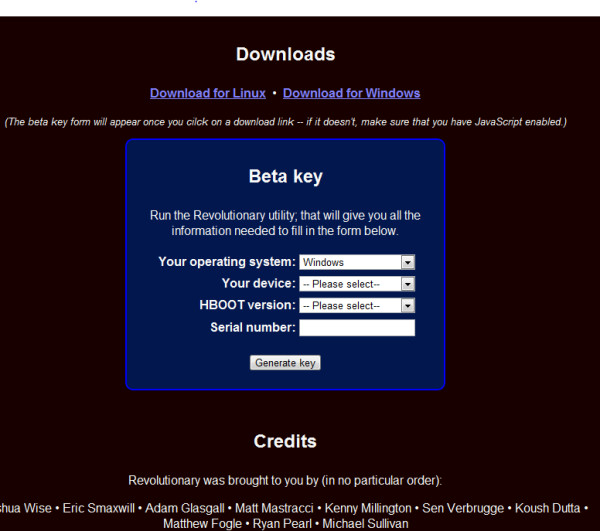 Here is the step by step guide to permanently unlock NAND write protection on HTC Sensation as well as to gain S-OFF :
Disclaimer: Please follow this guide at your own risk. AddictiveTips will not be liable if your device gets damaged or bricked during the process.
According to the developer, the tool is still a "developer preview" and things can go horribly wrong. For those looking for something rock stable, please wait until this goes in Release Candidate and / or Final build mode.
The first step is to head to the Revolutionary IO portal.
Once you are at the portal, read through all the interesting stuff and scroll down to Downloads Section.
Now click on Download for Windows, Revolutionary Zip file will start downloading and a menu headed with "Beta Key" will appear.
Now select your operation system, device and HBOOT version.
Once the download is complete, extract the zip file contents to a location on your PC of your choice. Make sure that all files are in the same folder.
Now download HTC Fastboot drivers from here and install them on your PC.
After this, connect your phone to the computer, make sure USB debugging is on and remove any traces of HTC Sync from your computer.
Now double click to execute Revolutionary on your computer.
You should be able to see a terminal window that will be in process of identifying serial key of your device.
Once the serial key is displayed, copy and paste it in the Serial field on the form at Revolutionary.io.
Now click on Generate Key and paste this key at the relevant position in terminal. Better type it out to avoid errors or confusions.
Now sit back and relax while your phone gains S – OF and an unlocked rewritable NAND.
After the process is complete, you will also have a custom Recovery installed on your phone. Flash the zip file posted here to perma root your phone.
We believe that this should do the job for you. In case you have problems and want so LIVE support, please head to official IRC support channel here.