How To Solve Rubik's Cube with any Android Device
Rubik's Cube – invented back in 1974 – was  at the top of the list for 'Best Puzzles of the Year' in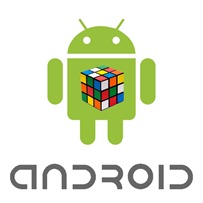 the year of its invention. If you're like me and haven't ever been able to solve a Rubik's puzzle in your entire life or are just stuck with it this time, there is hope for you if you have an Android device.
Now you can let your Android device solve that little annoying Rubik's Cube for you. XDA Developer covedesign has designed an application that lets you simply take pictures of your Rubik's Cube, anaylizes color pattern to recognize the complete current color coded faces, inputs them on its algorithm and guides you step by step towards the final solution!
What you'll need:
How To:
Download and Install the Obot's Rubik's Cube Solver.
Launch the application and you would be provided with the interface as displayed in this screenshot.
Tap on 'Camera' and the application will launch your camera with a grid of squares.
Align the squares with the front face of the Rubik's Cube and take a picture.
The application will recognize the color pattern and store the pattern on the right hand side.
Continue this until all the faces of the cube have been added and tap 'Solve' to have the application solve it for you.
The application will instruct you in standard Rubik move notation. Go here to learn the notation and apply it on the cube.
There you go! Keep this application with you anywhere, anytime to impress people around yourself with your Rubik's Cube 'skills'.