How To Unbrick Or Restore Samsung Captivate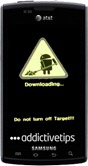 Nothing is wore than the sinking feeling when your phone refuses to do something that it was supposed to. The feeling gets a lot worst if what it was supposed to do was boot into the operating system or in some terminal cases, not boot at all. Most of these times, the hardware itself is fine, its just some firmware level issue not letting the phone boot normally.
If you have just experienced any of the above described feelings and the feelings were inculcated by a Samsung Captivate, we're here to tell you there is still hope. You can still have your phone back to normal if you follow the below mentioned steps:
Requirements:
Procedure:
Download the above mentioned drivers for your PC.
Install and reboot your system.
Plug in your USB cable to your phone and computer.
Open Odin.
Remove the battery , SIM card and SD card.
Put the battery back in.
Press and Hold Volume Down + Volume Up + Power button to enter Download Mode.
Click Start and let Odin restore your firmware.
Your Captivate should now be restored back to its Factory Android state!
If it worked for you, do thank the XDA-Developers forum member designgears on the thread. Any issues during the upgrade or help later on can also be found on the XDA Developers forum thread.