How To Unbrick Samsung Infuse 4G And Fix Partition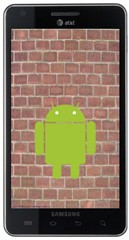 If you're not an experienced Android user with a Samsung Infuse 4G, but are brave enough to experiment and learn on the go as you try to mod your it, chances are that you might, or might be stuck with a bricked device. If you're reading this and wondering if life would ever go back to normal again, worry not, for your device may still have a chance of breathing again. XDA-Developers forum member gtg465x has released a solution that could most likely unbrick your device. We're not saying, it WILL, we're saying it could, and has in some scenarios.
So if you have a bricked device, you need to try this out. The developer has put together a file to be flashed via ODIN. However if you have bricked your device in a manner that you cannot even boot the Infuse 4G into Download mode, you need to look elsewhere for a solution as this guide here will not help you. On the contrary if you have a bricked device that can still manage to boot into Download mode, this guide could help you recover your device.
Flashing this package via ODIN will take your device to a completely stock state and it also includes a PIT file in case your device was accidentally flashed with a wrong PIT file or either way you messed up your partition. According to the developer, flashing this PIT file is not dangerous, as it has been tested and verified by him.
Enough said, time to revive your Infuse 4G! Here's how.
Disclaimer: Please follow this guide at your own risk. AddictiveTips will not be liable if your device gets damaged or bricked during the process.
Requirements:
Instructions:
To begin, download the unbrick package from the link above and extract the contents to a folder.
Run ODIN and click the PIT button in ODIN and select infuse.pit when prompted. (Make sure Re-Partition is checked.)
Click the PDA and select PDA_UCKD5.tar.md5.
Click the PHONE button and select PHONE_UCKD5.tar.md5.
Once the files are selected put the phone in download mode. (Pull battery, replace battery, press and hold both volume buttons while plugging in the USB cable connected to the PC.)
Once you see the device connected in ODIN, hit the Start button to begin the flashing process.
Once the process completes, the phone will reboot.
In case the phone goes into a boot loop, pull the battery out, out it back in, press and hold both Volume keys and then press and hold the Power key, keep holding all three buttons until 3e recovery comes up. Select delete all user data, and finally select reboot system now.
For updates and queries, visit the forum thread at XDA-Developers.