HTC Confirms Sensation Bootloader Unlocking Coming Soon
It seems as if HTC has started taking things seriously as they have confirmed that HTC Sensation bootloader unlocking process will be rolling out soon. This pleasantly surprising announcement came from HTC's Facebook page where a user demanded a day of release for unlocked bootloader of Sensation. Although there isn't a specific date mentioned in HTC's reply, but  they are working on an easy and properly streamlined process for this purpose.
According to HTC
It's definitely coming. The Change isn't significant…Right now many people are collaborating to make the process clear and effective.

We're getting closer to being able to share a date, just a few more steps with outside partners before well communicate specifics.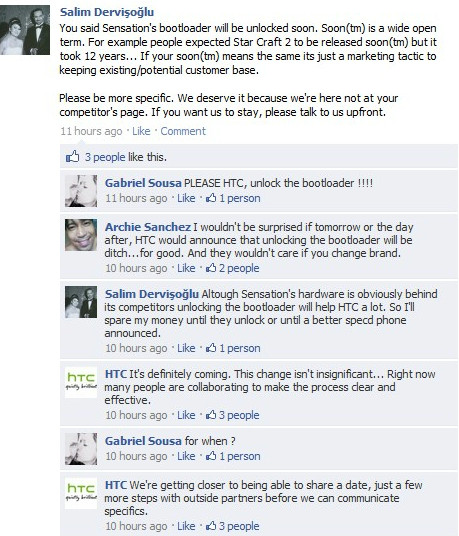 The above mentioned official statements are clearly hinting at unlocked Sensation bootloaders. According to some folks at XDA developers, they have already received their handsets with S-OFF which will definitely speed up the rooting as well as reverse engineering process. Lately HTC has been full of surprises and we believe that they have finally started to realize that "Customer is the king". We saw HTC taking a U-Turn on their decision of no Gingerbread update for HTC Desire, and now Sensation's unlocked bootloader will definitely help restoring customer confidence on this brand.
As there is no word out on how exactly HTC will allow users to unlock their Sensation's bootloaders, we believe that it might be a similar process to Sony Ericsson's online bootloader unlocking. It will also be interesting to see if HTC voids warranty after bootloder unlocking. Sony Ericsson, although officially offering bootloader unlocking for select device, does void warranty of bootloader unlocked devices.  Let's keep our finger crossed and see if HTC really rolls out the unlocking process soon. In the meanwhile, you can head to our complete bootloader guide posted here for more information.