HTC Desire Not Getting Updated To Gingerbread, Try Alternative Options
Couple of days back, HTC announced that Desire [bravo] Android phone won't be getting updated to Android 2.3 Gingerbread officially. The reason presented by HTC on their Facebook page regarding no Gingerbread for Desire isn't going to convince many in buying it straight away. According to HTC, the main reason for discontinuing any further firmware updated on HTC Desire is some "memory" that won't allow a complete HTC Sense interface integration on Gingerbread. And it's odd that currently there are 20+ custom ROMs for HTC Desire available based on Android 2.3 Gingerbread and UI'd with HTC Sense on different Android forums, portals and blogs.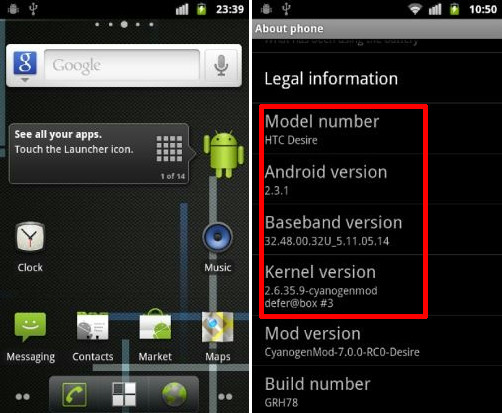 Here is the exact statement from HTC:
Our engineering teams have been working hard for the past few months to find a way to bring Gingerbread to the HTC Desire without compromising the HTC Sense experience you've come to expect from our phones. However, we're sorry to announce that we've been forced to accept there isn't enough memory to allow us both to bring Gingerbread and keep the HTC Sense experience on the HTC Desire. We're sincerely sorry for the disappointment that this news may bring to some of you.
Officially, Desire is dead! But what are your options? Well if you are still on Stock firmware, then our suggestion would be to root your device. Rooting basically allows you complete access of every nook and corner of your device and you get to install custom 3rd party firmware along with tons of modification that aren't possible otherwise. You can head to this post for finding out all about acquiring root on devices and it's advantages and disadvantages.
So once you get rooted, there are huge possibilities that can come into play and are pretty handy. Usually the first step after rooting your Android device is to flash a custom Recovery followed by flashing a custom ROM.
Nowadays, ROM Manager for Android is your one stop Custom Recovery and Custom ROM shop that not only allows you to flash recovery, fix ROM permissions etc, but also provides the facility to install ROMs, search for ROM updates and make / restore backups. Right after rooting your HTC Desire with Unrevoked Single Click Rooting method, you can download ROM Manager available for free in Android Market.
There are hundreds and thousands of custom ROMs available for HTC Desire that will definitely revamp and revitalize your experience. CyanogenMod, MIUI and Oxygen custom ROMs for Desire are the most famous and in our opinion, you should go for one of these for stability and optimized user experience.
Of course rooting and tinkering with your device's hardware and software voids any associated warranty, but we believe that this is your only option if you want to update your handset to Android 2.3 Gingerbread. A part of our wishful thinking suggests that HTC might have to give in like Sony Ericsson did in a similar case of Sony Ericsson Xperia X10 series phones.
Update: HTC has changed their mind. They are now releasing Gingerbread for Desire.