HTC Dock Mode Turns Your HTC WP7 Device Into A Clock/ Music Player
Microsoft might have struck a deal with Nokia, making it their favorite hardware manufacturer, but HTC hasn't given up on Windows Phone 7 by any means. The latest proof of HTC's commitment to the metro platform is the spike in apps released for Mango and the renovated HTC Hub (which has lost its excess graphics and added greater functionality). HTC Dock Mode, available in the HTC app zone of the Marketplace, is a free app that essentially turns your phone into a side-table clock and music player in the time that it's charging or not in use. The app is particularly useful if you have a charging dock for your HTC Windows Phone or your phone has a kick stand (like the HD7) . Although the app is called Dock Mode, your device doesn't necessarily have to be docked to use this app. All you need is an HTC device running on Mango and you'll be able to use this app.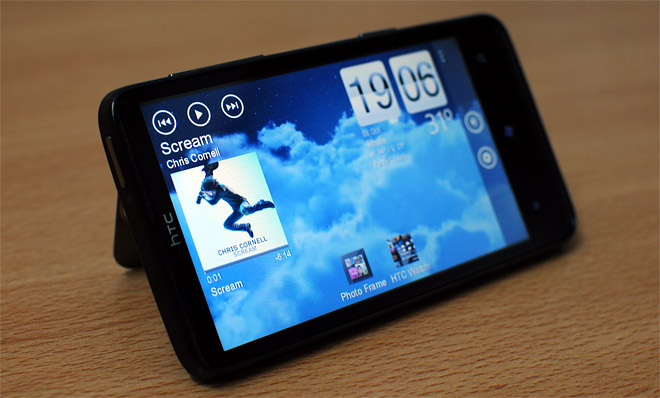 Dock Mode is a cross between a cosmetic app and a utility. The app has beauty and just for that, might warrant a download for some users. But if you are not one to go for mere looks, you should know it has some pretty useful functions to offer too. You can think of Dock Mode as an alternative lock screen for your phone.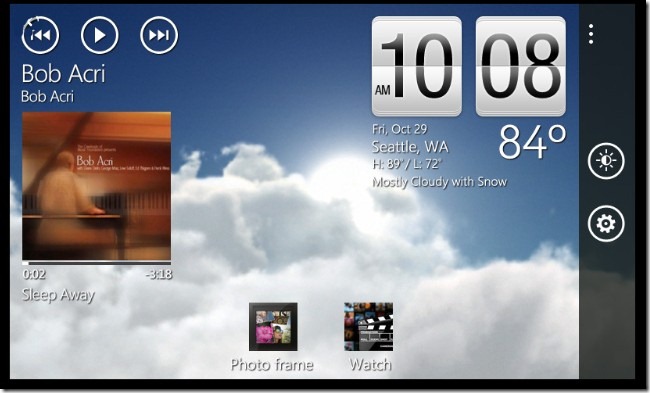 Weather And Clock Widget
Automatically detecting your current location (if you allow it to, of course), the app displays the current temperature in your area. This temperature reading is grouped with HTC's trademark digital flip-clock widget. You can switch between two levels of screen brightness at which Dock Mode runs by tapping on the sun icon at the bottom of the screen.
Music Player
The app includes a widget for music too. The widget's interface matches that of the stock Windows Phone 7 music app. The music is, of course, from your phone's library.
Photo Frame
The app lets you use your HTC WP7 as a photo frame which will keep playing a slideshow of photos from the Pictures Hub. Like the rest of the app, this option works both in landscape and vertical mode. You can alter the slideshow speed and the source folder of the pictures. You can even customize animation styles from within the app's settings. Alternatively, you may tap anywhere on the screen while the slideshow is playing to access its settings.