HTC Rhodium & HTC Raphael Get Android 2.2 Froyo Port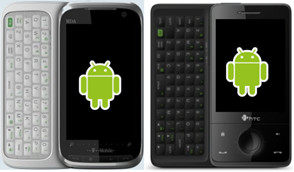 Windows Mobile phone's were smart for real during their prime time. With continuous support even now, the devices simply refuse to be titled as obsolete. The HTC Rhodium and HTC Raphael have risen out of nowhere to stand alongside the HTC HD2 – the most versatile Windows Mobile Phone to date – and should out to all Android, iOS, Windows Phone 7 users that they still have a kick left in them. If you own an HTC Rhodium or Raphael, you might not believe it, but your devices have just received a complete Android 2.2 Froyo OS port! Read on all about what the port has to offer as we point you to the instructions on how to get these ports up and running on your devices.
Credit goes to XDA-Developers forum member arrrghhh and his team, who have just finished polishing the port up for both the devices mentioned. According to the developer, "I have created a complete bundle of FroYo with a stable kernel from GIT (July 16 / 1340), and rootfs from GIT (July 15)."
Here's a brief list of the changelog for the latest release of this port:
CDMA now works correctly (for the most part). force_cdma (and north_am_dialing) is now deprecated (not needed/ignored!).
You can boot with a SIM in on a CDMA device and choose your GSM or CDMA on the fly under Settings.
Location based on towers now works on CDMA.
1xRTT now displays correctly, but I never seem to get EVDO Rev.a… I always get 0. This is represented by a 3g icon, as this is what the Android framework provides.
Full MMS support! Please see this page for configuration instructions.
Spotty service, switching towers, etc should no longer cause the dreaded SoD (Sleep of Death) condition!
3.5mm support for RHOD400/500.
Droidwall works out of the box now.
Keyboard backlight now fades in/out.
Gallery3D back in! Picasa Web Sync comes with it.
rpierce99's app GetLogs.
Titanium Backup.
Bluetooth works now! But audio doesn't route. See this thread if you're feeling adventurous and want to play with/don't mind using some unstable/incomplete code.
WEP on Wi-Fi doesn't work. An app called wifi-ace on the Market fixes WEP.
So if you wish to try this out on your HTC Rhodium or Raphael, head over to the forum thread at XDA-Developers (links below) to download the port package and for a complete set of instructions on how to install it on y our devices.
For HTC Raphael | For HTC Rhodium