HTC Spark Price And Specifications [Windows Phone 7]
Back in July we reported Windows Phone 7 spotted on a mystery device that was rumored to be named as HTC Spark. Today we have got some undeniable evidence of HTC Spark's legitimacy as BGR has released a screenshot of this Windows Phone 7 handset.
There is not much known about specs and features this phone will be filled with, but based on speculations and previous leaks, we can predict the following specifications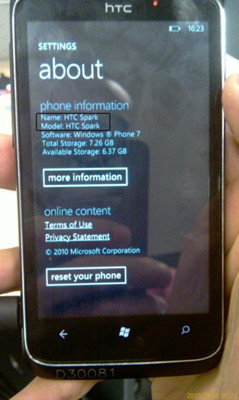 of HTC Spark:
Windows Phone 7 OS
3.8 Inch Touch Screen
1.0 GHz Processor
8.0 GB Internal Memory
512 MB RAM
512 MB ROM
400 x 800 Screen Resolution
Dual Band HSPA/UMTS Radio
Wi-Fi
Bluetooth
FM Radio
5 Megapixel Primary Camera
Dedicated Search, Back And Windows Onscreen Buttons
1300mAH Battery
LED Flash
GPS/AGPS
If these specs stand true [We firmly believe that they will], we can speculate this handset to become Windows Phone 7 "fan boy love" for certain. The powerful 1.0 GHz processor along with 512 MB RAM is assurance of a high-end device bound to impress and take some critic thumbs up. Our only worry is the meager 1300mAH battery that can become a deal breaker due to less back up and talk time. There is no estimated time to release associated with this handset, but "November" rings a bell as Q4 will be filled with some delicious "gadgetary". The price tag of this phone will depend on the carrier who adopts this, but our prediction is under USD 300 with bi-annual commitment [Above USD 450 commitment free.
Please note that these specs are based on rumors, speculations as well as buzzing hints. HTC has full rights to alter any specification and/or features without letting us or you know at the time of phone's release. But don't worry, as we won't leave you deserted and update the details as soon as HTC or a carrier makes them official.