Ice Cream Sandwich For Galaxy S II I9100 Leaked [Video]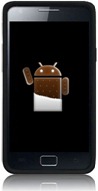 The Samsung Galaxy S II gets ICS! Earlier when the source code for ICS was released, Galaxy S II owners went crazy with the news of ICS AOSP ROMs being talked about on the internet and more so, they were installable. The builds at that time, were far from stable, with not just graphical glitches but major hangups. Today, Sammobile released what is an ICS based XXKP1 firmware (Android 4.0.1), with a build date of 7th December 2011. Is this the real deal? Sad answer being, no it isn't. So what is it then? We find out after the break.
According to Sammobile who often get such leaks before the official release date, this particular leak was tested by their team and they have confirmed, that this leak, is in fact a custom Samsung build. So yes, it is not stock, and it is certainly not an unofficial leak. So what does the ROM have to offer?
The TouchWiz launcher has been maintained atop the ICS along with Android 4.0 tweaks. Basic stuff like calls, SMS, internet are all working. You may experience some force closes with some apps as well. The occurrence of random reboots cannot be ruled out either. Below you can see a video of the ROM in action on the Galaxy S II, courtesy of Sammobile.
This ROM should not be flashed by people who only flash Stock ROMs! Because you flash this rom with insecure kernel, the phone thinks its a 'custom'  build, and will start counting on your custom counter. You will loose your warranty because of this.