ICS Browser Plus: Enhanced Variant Of Stock Android 4.0 Web Browser
As mentioned in our overview of Android 4.0  Ice Cream Sandwich features, the latest Android operating system sports a plethora of handy features and UI enhancements including Face Unlock, NFC Beam, instant task switching, built-in option to capture screenshots, and an all-new stock browser with the Quick controls option that it borrows from its Honeycomb counterpart. As compared to the tablet version, said option is quite limited in the ICS stock browser. XDA-Developers member appelflap has released a beta build of his very own variant of the ICS browser that sports Honeycomb-style Quick Controls. It's called ICS Browser Plus and is compatible with Android devices running ICS (v4.0 or higher). In addition, the app lets you change the user agent (UA) string of your Android browser to desktop, iPad, iPhone and other devices.
The Quick controls option, if enabled (from Menu > Settings > Labs), replaces the address bar with a semicircular control panel packed with buttons for easy switching between tabs, launching main menu, and various other browser options. The panel can be revealed by tapping anywhere on the left or right edges of the screen. While the panel included within the stock ICS browser provides you with just three buttons (for switching between tabs, revealing the URL bar, and launching the main menu), the Quick Controls panel of ICS Browser Plus offers a full set of controls including various buttons for easy navigation, bookmarking, closing tabs, and more. To access the panel features, all you need to do is hold down anywhere on the edges of your browser screen, and drag your finger to the required option.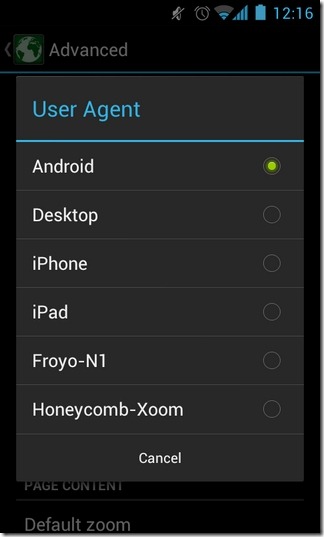 The integrated option of switching the UA string of your browser to any other device – desktop, iPad, iPhone, Froyo-N1 and Honeycomb-Xoom – is handy too, especially if you often find the need to browse a version of a website specific to one of the mentioned devices. You can switch to another user agent from within Menu > Settings > Advanced > User Agent.
As mentioned earlier, the app is currently in beta so you can expect it to be a bit rough around the edges. Also, as of now, there are only two features that separate it from the native ICS web browser. The developer promises to add more features to the browser in future updates. ICS Browser Plus is available for free in the Android Market, and works with rooted as well as non-rooted devices running ICS.
Download ICS Browser Plus for Android