iMuscle Nova: Personal Fitness Trainer With 3D Human Body View [iOS]
Staying in shape isn't easy, and many people blame their gadgets like iPhone or iPad for their excess body fat. However, if used correctly, it is possible to turn these gadgets to your perfect gym instructors, and learn all about workout routines and other ways you can stay in shape. When it comes to fitness apps, iMuscle Nova is the ultimate repository of exercises and other fitness tips on the iPad. Using this iOS app you can discover which workout routine will be best for you, after defining your shortcomings, and areas of your body you want to strengthen. Not only that, the app will demonstrate all the selected exercises to you in a 3D demo, and you can use iMuscle Nova as a complete planner for al your workouts. The best thing about the app? Everything on iMuscle Nova works offline, so you can take it anywhere even without a data connection.
If you want to use iMuscle Nova just to discover a suitable exercise for a part of your body, it is possible to start browsing the database of the app as a guest user. On the welcome page of the app there is a muscle view of the human body, and you can explore all its areas in great detail by swiping across the screen, or via tapping any area you wish to inspect closely. Once you have zoomed in to an appropriate level, the app will start showing pins, which actually highlight the vital muscles in your body. Tapping any of the pins will bring up all the exercises related to it. If you intend to use iMuscle Nova on a regular basis though, it is better if you create your separate profile. Each user is allowed to add a workout to their profile, and it is possible to set up multiple routines as well. You can also set goals for you in your profile.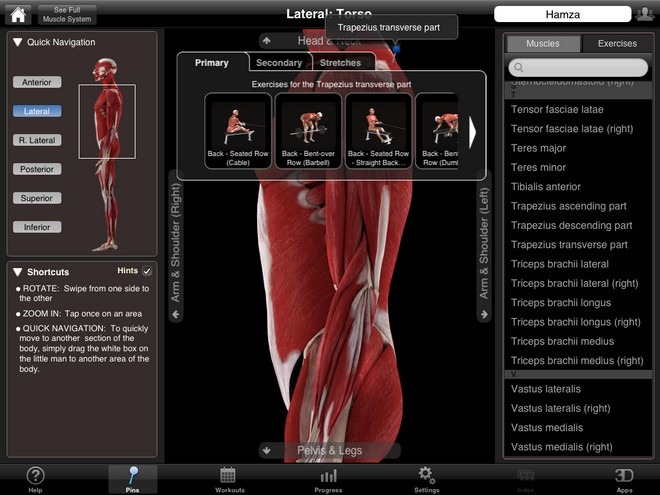 If you can't find the exact muscle in which you have a problem, or whose exercise you want to perform, then use the search box which appears when you hold your iPad in landscape mode. Not only every muscle in your body is listed in the app, you will find just about every popular exercise listed there as well. After a body part has been chosen, you can view it in detail from many different views, and the exercises will show up categorized as primary, secondary and stretches. In this way you can reach the exact workout you set out looking for.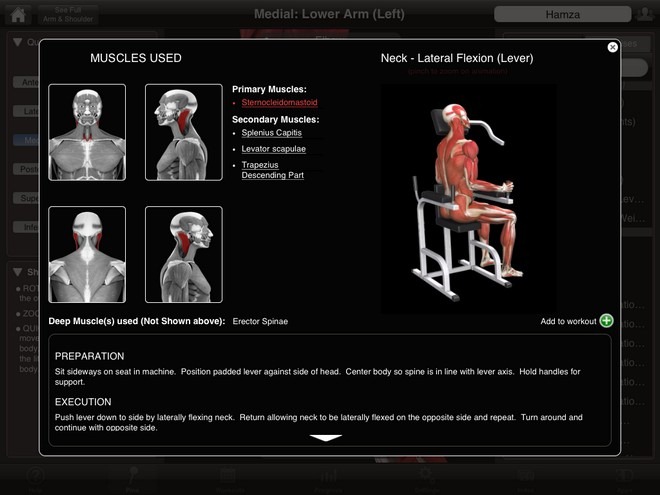 For each exercise listed in iMuscle Nova, you will find a detailed graphical description for it. In addition to that, the figure onscreen will also demonstrate the correct way of performing that particular exercise using animations. Furthermore, iMuscle Nova lists all the muscles which will be used during that workout routine, as well as text instructions for preparations and execution of that particular exercise.
iMuscle Nova helps you keep track of each of your workout routines, and motivates you by telling you your best performances, so that you can try to beat them. Another useful feature offered by iMuscle Nova is the sharing of a workout plan with any other user of the app having an active Bluetooth connection.
Although iMuscle Nova will set you back $4.99 (for the iPad version), it is well worth the price when you look at the staggeringly large amount of features it has to offer. You can grab the app by going to the link below.
Download iMuscle Nova [iPhone]