Increase Battery Life With Lower Voltage Kernels For HTC Evo 4G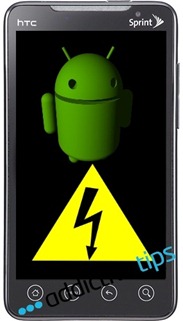 Android devices are being pushed into being faster and more feature packed every day. Constant Wifi connectivity, data connectivity, games, movies, etc are all pretty hefty on the battery. Now flash some custom ROMs and we wouldn't be surprised if the battery drain varies. Then comes the kernel, the powering core of your OS, which, if not coded to perfection, can be really harsh on your battery, causing it to drain faster then usual. While, the above situation is a rarity these days considering most custom ROMs are bundled with optimized kernels, there's never enough battery on an Android device. HTC Evo 4G user's are in luck thanks to some undervolted kernels recently released. For more on the kernels and to flash them to your phone, read on!
The kernels have been released by, XDA-Developers forum member –viperboy- and are meant specifically for devices running AOSP Kernels, such as the CyanogenMod Kernels. The kernels lower the voltage draw of the CPU by lowering the Maximum and Minimum voltage used at each speed frequency. For those already running undervolted kernels, these kernels would work with those as well. The kernels are available as four packages:
According to the developer:
The -25mV and -50mV undervolts should work for almost anyone. The -75mV and -100mV are pretty agressive and might not work on your phone. If you get reboots or freezing, try the .zip that is 1 step down and see if it is more stable.
Now that you know what these kernels are all about, let's get them flashed on your Evo 4G!
Disclaimer: Please follow this guide at your own risk. AddictiveTips will not be liable if your device gets damaged or bricked during the process.
Requirements:
Instructions:
To begin, download the Kernel of your choice and flash it your phone via recovery. If you're unfamiliar with flashing ROM, Kernels via CWM recovery, see our guide on how to install ROMs and kernels to Android via CWM recovery.
Additionally if you want to reset your HAVS value back to the one you were running before, download the HAVS Reset kernel and flash it.
For updates and queries regarding the kernels, visit the forum thread at XDA-Developers.