Install Android 2.2.1 Froyo Custom ROM On Sony Ericsson Xperia X10
There is some great news for Sony Ericsson Experia X10 owners looking to install the latest Android 2.2.1 Froyo on their handsets. Folks over at XDA have come out with a custom AOSP Android 2.2.1 Froyo ROM for Xperia X10 that is not only easily flashable, but also offers a bloatfree and neat user experience. Unlike Sony Ericsson, the Rom chef's are keeping their build up to date with adding more features and removing bugs that are reported. Earlier we thought that only Samsung abandons it's users after selling them handsets, but Sony Ericsson definitely beats Samsung in this regard.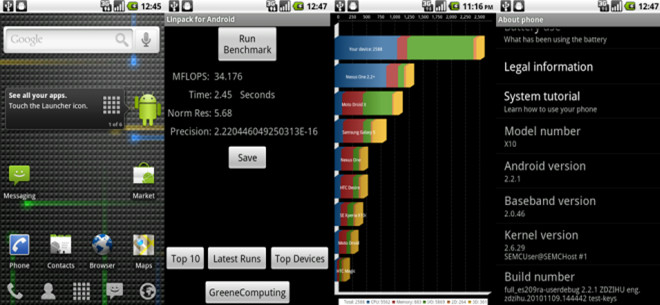 Here is a list of all the features that are currently working on the Android 2.2.1 Froyo ROM for Xperia X10:
-Rom flashable into device
-Rooted
-Backlight
-2D
-3D
-Power management
-G sensor
-adb enabled at boot (useful for debugging)
-GPS
-GSM
-WIFI
-CAMERA
-BT
-3G data connection
-Audio
-HDPI
In order to flash the Android 2.2.1 Froyo AOSP ROM on your Xpearia X10, you need to have at least 1.0 GB free space on your SD card. According to ROM chef's, these are the known issues:
Known problems:
– No Audio playback (voice calls work)
– No native Video playback (RockPlayer works)
– Camera – not implemented yet
– Random reboots (identified – WIP)
– Random lags (identified – WIP)
Please head on to the official XDA thread for downloading the ROM image and for detailed outline of instructions as well as support . We will wait for a stable method before writing our step by step guide on installing / flashing this ROM on your Xperia X10.
Here is a video showing Custom AOSP Android 2.2.1 Froyo ROM running on Xperia X10: