Install Android 2.2 Froyo On Samsung Wave S8500 BADA OS Smartphone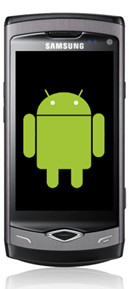 The Samsung Wave with it's brilliant Super AMOLED screen amongst other hardware specs that are in par with most high end Android phones out there today, found itself held back due to the BADA OS. Now imagine the possibilities had this phone been running the Android OS. Did we say imagine? How about you find out for yourself, because developers at XDA-Developers have managed to port the Android 2.2 Froyo OS onto the Samsung Wave!
The development on this project had been going on for quite a few months, and after all that effort, the developers have finally released an Alpha version of the Android port for the Wave. So if it's an Alpha, it's not intended to be used as a daily driver and is most likely unstable at the moment. However, if you're a brave enough geek and want to try it out, we'll try to list out the functioning and non functioning features in this port so far.
What's functioning:
Launchers.
Market (including install).
Settings.
Wi-Fi.
Audio.
Video (unconfirmed).
Modem (not in this version yet, but we have signal on the M130K).
What's not functioning:
Modem (3G, Calls, etc.).
GPS.
Sensors (causes the battery charge bug.)
As for the installation, head over to the forum thread at XDA-Developers. We normally try to list down the instructions in a very easy and understandable manner for even the most novice users, however, the project is still under development and being constantly updated, ergo we can't take the chance on our readers missing out on that.
If you do manage to try out this port, do let us know how it faired for you.