Install Android 2.3.1 Gingerbread ROM On Sony Ericsson Xperia X1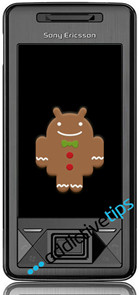 Gingerbread keeps extending the lives of not only the older Android devices but, devices like Sony Ericsson Xperia X1 that came with Windows Mobile. And you thought when Android was ported to the Xperia X1 you had reason to rejoice? Well now Xperia X1 owners have reason to go a little crazy. Gingerbread is now available for you to install on your device! The ROM, named F1 Gingerbread 2.3.1 V2 was made possible by XDA-Developers forum member faryaab who claims it to be stable enough for everyday use. For more on this ROM and how to install it on your device, read on!
Excited? Let us at least list down the what is functioning and what's not with this ROM on your phone.
3D rendering is flawless with 27FPS on Neocore.

WiFi works.

Data Connectivity works.

3G Network works.

Calls – Incoming / outgoing work.

Speaker is functioning.

SMS – Incoming / outgoing is working.

Market works.

Browser works, but is a bit slow.

The battery life is great.

Backlight Control is working.

Overclocked to 600Mhz.

Landscape mode support.

Bluetooth does not pair with devices.

The original Gingerbread keyboard is broken, you can download any from the market.

GPS does not work.
Button Layout:
X Panel Button = Home Button.

OK Button = Back Button.

Left Softkey = Menu Button.

Right Softkey = Standby & Lock Button.

Call Button = Dialer Button.

Call End Button = Standby & Lock Button.

Volume Buttons = Volume Buttons.

Power Button = Standby & Lock Button.

Camera Button = Home Button.
Now lets get this ROM up and running on your device!
Disclaimer: Please follow this guide at your own risk, AddictiveTips will not be responsible if you damaged or bricked your device during the process.
Requirements:
SD card of your device partitioned in the mentioned configuration: FAT32(however large, as long as you have ext2 & linuxswap), Ext2(512MB minimum) and Swap(64MB). See this guide on how to partition your SD card.
USB cable.
Instructions:
To begin, extract the ROM you downloaded form the link above and copy the files to the root of the FAT32 partition of your SD card. The FAT32 partition would be the only one visible on your PC.
Now enter File Explorer in Windows Mobile on your Xperia X1, browse to the SD card, open npkinstall and run install.exe. The files will be installed on your ext2 partition.
When the files are installed, the phone will automatically reboot into Windows Mobile. Launch File Explorer again, run Haret.exe from the SD card (not the one in the npkinstall folder) and wait till Android boots.
Now when Gingerbread boots up, it will be slow, don't try to fight the sluggishness that follows with the first boot. Restart it once it fully loads and things will be better.
Congratulations! Who would have thought the day would come when the Xperia X1 would be running Google's latest Android OS! Let us know how this ROM faired for you. For updates and queries regarding this ROM, visit the forum thread at XDA-Developers.