Install Android 2.3 Gingerbread on HTC Incredible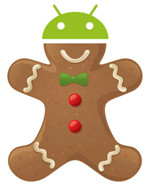 If you are an HTC Incredible owner, have been following our mobile section lately and were disappointed that no port for your device was featured in our coverage of Android 2.3 Gingerbread ports for several devices, worry no more! Team weDoDroid at XDA-Developers forums has released a port of the latest release in the Android series for you to try out on your HTC Incredible right away.
Disclaimer: Please follow this guide at your own risk. AddictiveTips will not be liable if your device gets damaged or bricked during the process.
This port is based on Android SDK and is primarily intended for developers or testers who just can't wait to try out the interface enhancements introduced in Gingerbread. It is in alpha stage and hardware support for a lot of features is missing, including sound, camera and Bluetooth. Several features have been made to work using hacks rather than real fixes, so it is quite slow as well but gives you the Gingerbread experience nevertheless.
The port is under development and new features are continuously being added. For updates, questions and feature requests, head over to the XDA-Developers forum thread. To install it, just download the ROM from the link given below and flash it to your phone using its standard flashing procedure.
Watch the video below to see Gingerbread ROM in action.
Download DEV PORT SDK DUMP Incredible Gingerbread