Install Android 2.3 Gingerbread SDK ROM On Nexus One (Alpha Version)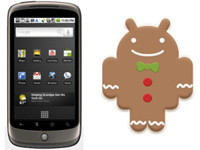 Since Google released the Android 2.3 Gingerbread SDK recently, we have been covering the SDK ports by many custom ROM developers for several Android devices. In this series,  today we bring you one just released for Nexus One. Do note that being an SDK port rather than a ROM built for this device from the source code, it has several hardware features missing at the moment. More information about what's working and what's not, the download link and the installation instructions after the break.
Brought to you by XDA-Developers forum member MicroMod777, this is an extremely alpha release meant only for developers or users who just want to try out the Gingerbread interface on their phone, and is not intended for daily use. In the Android SDK dump, only the Gingerbread interface was functional but MicroMod777 managed to get the following features to work:
Sound, WiFi, Camera and pretty much everything else is non-functional right now, and the release doesn't have any Google apps installed either, though you can find those online and install them yourself after digging into XDA-Developers a bit. The developer is working on fixing many of these issues and will continue releasing versions with fixes, so to keep yourself updated, head over to the ROM's XDA-Developers forum thread.
To try the ROM out, download it from the link given below and flash it to your phone from recovery. For those of you who don't know the flashing procedure, here is how it goes:
Disclaimer: Please follow this guide at your own risk. AddictiveTips will not be liable if your device gets damaged or bricked during the process.
Requirements:
Nexus One with unlocked bootloader and a custom recovery installed. See this guide for unlocking the bootloader and this one for installing ClockworkMod recovery.
Procedure:
Download the ROM and copy it to your phone's SD card.
Reboot your phone to recovery.
Make a backup.
Wipe data/factory reset, then wipe cache, and lastly from 'advanced', wipe dalvik cache.
Install zip from sdcard > choose zip from sdcard > select the zip file for the ROM copied to the SD card in step 1.
Wait while installation finishes, and then reboot your phone.
You should now have the SDK Gingerbread port running on your Nexus S. Once the final official build or a fully working port of Android 2.3 Gingerbread is out, we will be amongst the first to post it for you here at AddictiveTips, so keep checking back!