Install Android OS On HTC Universal Windows Mobile Phone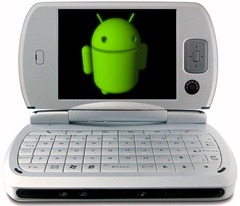 You may or may not remember the HTC Universal with it's micro laptop looks and being the first 3G device worldwide back in 2005. So 6 years later, the device is all hip again. Yes, XDA-Developers forum members notime2d8 and orzech2111 have just released a port of the Android 2.2 Froyo for the HTC Universal! A project that has been in the works for almost a year now! More on this and how to install it on your HTC Universal, after the break.
So far the following features are functioning:
Kernel v2.6.36.
LCD.
Keyboard.
SD card slot.
Max1587a.
Asic3 Buttons.
Automatic screen rotation.
Touchscreen.
Bluetooth.
USB host.
Backlight.
Adb and USB mass storage.
M24C08 Eeprom.
Keyboard and button backlights.
RTC8564.
Led's – Red, Green, Blue, and vibrate.
AC Charging.
Wi-Fi.
Bfq.
Bfs.
Slqb.
Interactive + smartass cpu governor.
Classic rcu.
Root support.
Support for EXT4 filesystems.
Phone.
Audio – no input from mics, routing related.
Not functioning:
Data – 3G or GPRS.
Camera's – Added driver for both cams.
Power Management.
The 64MB RAM on the Universal is making things a little tough, but not impossible at the moment. If you wish to try this out on your HTC Universal, visit the forum thread at XDA-Developers and follow the instructions over there. Generally we post the instructions ourselves but due to the fragility and ambiguity involved in the procedure posted, we cannot take the risk.