Install ClockworkMod 4.0.0.2 Recovery On T-Mobile G2x [How To]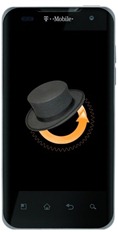 Earlier we covered a guide on flashing ClockworkMod recovery to the G2x but that was only a test version of the recovery and was very experimental at that point. This time around we'll show you how to get ClockworkMod 4 onto your G2x. Those unfamiliar with what ClockworkMod recovery is, should see our guide on what is ClockworkMod recovery for Android and how to use it.
So if you understand what ClockworkMod recovery can do for you, and how it makes your life with a rooted phone easier, here's a step by step guide on installing ClockworkMod on your G2x.
Disclaimer: Please follow this guide at your own risk. AddictiveTips will not be liable if your device gets damaged or bricked during the process.
Requirements:
Instructions:
The instructions would be based on 2 parts, Driver installation and ClockworkMod recovery installation. Before continuing, download the NV Flash package and extract the contents.
Driver Installation
Remove the battery and plug your phone to the PC via USB.
Now hold Volume Up/Down keeping them held down till Windows detects a new APX device.
Open Device Manager in Windows and you should see APX Device listed with an error icon.
Right click on the APX device > Update driver software > Browse my computer > Let me pick > Have disk.
Browse to directory  where you extracted the driver software to: One-Click-G2x-recovery-flasher-06-16\APX.
Now in Device Manager under USB Controllers you should have an NVIDIA USB Boot-recovery driver for mobile devices.
Installing ClockworkMod recovery
Remove the battery and plug your phone to the PC via USB.
Goto NvFlash directory and run OneClickRecoveryFlasher.exe.
Unplug the USB cable from your phone.
Hold Vol Up/Down. (Keep them held until you see the S/W Upgrade screen on your phone after you complete step7).
Plug in the USB cable to your phone.
Click the Flash ClockworkMod Test2 button.
You should see the screen showing a message saying S/W Upgrade – Please wait while upgrading…..
Once the files are sent and the program is finished running in the command window, you CAN just pull the USB cord or be safe and just wait a few extra minutes, however it will still say "upgrading".
Put the battery back in and you can now boot into Recovery.
For updates and queries, visit the forum thread at XDA-Developers.