Install Custom ClockworkMod 4 Based Recovery On Motorola Photon 4G
It was only a day or two back that the Motorola Photon 4G had its bootloader unlocked, and with that it seems like the development for the device is really gearing up. Just as the device received an unlocked bootloader, XDA-Developers forum member romracer released a modified CWM based recovery for the Photon 4G that according to him, is based on his own custom code forked from the CyanogenMod team's recovery. What does this mean? Well for start you now have an alternative to the Bootstrap recovery. romracer's recovery, named ALPHA RECOVERY has quite a few features at hand as well.
Credit to Koush and the CM team for CWM and Calkulin for pointing out the kernel.
The recovery has been modified to now include full support for dual SD cards, and support the Webtop partitions (SD card and internal). Other than that, a few changes to the Nandroid backup have also been made. The osh partition is a webtop partition and is the largest by far, so while making a Nandroid backup, it will take time, so no, Nandroid is not frozen. The sd-ext partition is an ext2/3 partition on your external card.
Some of the core features of the recovery include:
Dual SD card support.
ADB Support.
USB Mass storage support.
Nandroid additions / changes.
Ext3 formatting is now available.
Picture below is courtesy of XDA-Developers forum member ooxcfhxoo.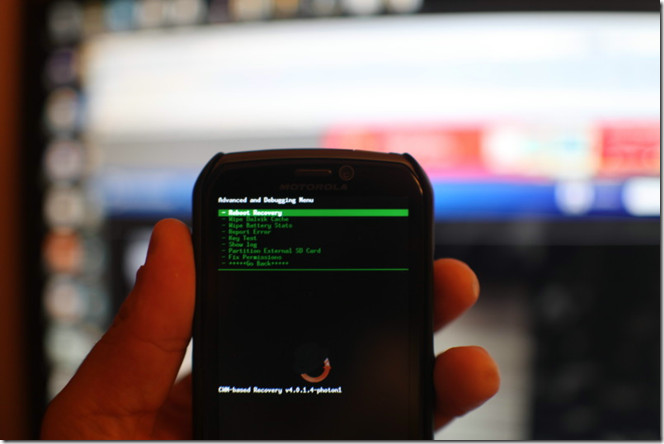 According to the developer he hasn't yet tested it out on the Photon 4G for he doesn't own one. Ext4 support and the soft keys for navigation may not work due to the lack of kernel support.
I do NOT have a Motorola Photon 4G. I have based this recovery off the Photon kernel and Atrix resources as suggested by Calkulin. I do not SUSPECT there will be problems but again, I have NOT personally tested this on my phone and YOU assume full responsibility for any damage incurred to YOUR phone!
The recovery is available in an assortment of colors if that matters to you. You can pick that out once we get on with the installation, so here's how you can get this recovery up on your device in no time.
Disclaimer: Please follow this guide at your own risk. AddictiveTips will not be liable if your device gets damaged or bricked during the process.
Requirements:
Motorola Photon 4G with an unlocked bootloader. See our guide on unlocking the Photon 4G's bootloader.
ADB installed on your system. See our guide on what is ADB and how to install it.
Alpha Recovery, Orange | Cyan | Light Green | Dark green | Blue. (zip files are also available on the forum thread to be flashed via ROM Manager/CWM, but for that you still need an unlocked device and should have flashed a version of this recovery at least once.)
Instructions:
To begin download the recovery and copy it to the moto-fastboot folder in ADB.
Put the device in fastboot mode and connect it to the PC.
Run command prompt or terminal, navigate to the moto-fastboot folder and enter the following commands:

moto-fastboot devices

If a device code is returned, it means your device is properly connected and recognized.

Now enter the following commands:

moto-fastboot erase recovery

moto-fastboot flash recovery recovery-photon1.img

Once you see  the recovery written, simply reboot the device.
That's it! You now have the recovery installed on your Photon 4G! To get into recovery, simply power off your phone and reboot it by pressing the Volume down key along with the Power button. As soon as you enter fastboot mode, release the buttons and use the Volume down key to switch to Android recovery. Now press Volume up to boot into ClockworkMod recovery.
For updates and queries related to this recovery, head over to the forum thread at XDA-Developers.