Install Custom Rom On Non-Rooted Motorola Atrix 4G
Motorola Atrix 4G has just received it's first custom ROM! Yes, that's right XDA-Developers forum member designgears has just released what is termed as a basic custom ROM for the Atrix 4G. The developer has created this ROM in a way that would allow it to be flashed to a non rooted Atrix 4G and where possible, a rooted Atrix 4G. For more information and installation, read on!
Now the installation of this ROM on the Atrix is a bit unconventional, but rather too simple. However before we move onto the installation procedure, here are 3 instructions you should understand and follow before and after you attempt flashing the ROM to your phone: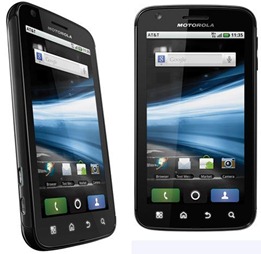 Do not factory reset the phone under any circumstances after installing this ROM, or you WILL brick your phone.

If you're not familiar with ADB and it's use, do not attempt to install this ROM. In case you softbrick your phone, you will need ADB to restore/fix it. See our

guide

on what is ADB and how to install it.

Do not pull the battery out. EVER.
As the ROM is pretty much basic, there are only a few interesting features to this ROM, that are:
It works for a rooted and non rooted Atrix.

During installation of the ROM, your system files would be automatically backed up.

The ROM is deodexed.

A reboot option has been added.
Cant wait to get this ROM up and running on your phone? Well then, let's install it on your Atrix.
Disclaimer: Please follow this guide at your own risk. AddictiveTips will not be liable if your device gets damaged or bricked during the process.
Requirements:
Motorola Atrix 4G running Android 2.2 Froyo

USB drivers by Motorola (Download for 32 bit Windows | Download for 64 bit Windows; restart PC after installation.)
This ROM will ONLY work on 4.1.26 firmware. If you're not sure what you are doing, get another ROM and do NOT install this one.
Take a look at this video tutorial below. Written instructions have also been provided.
Instructions:
Make sure you understand the 3 instructions above!

Download the installer and extract the files. Update: The ROM has been abandoned and the download has been taken down. Use the search field of our site to find other suitable ROMs for your Atrix 4G.

Connect your Atrix to your PC, and enable USB debugging mode (Settings > Applications > Development > Enable USB debugging mode).

Make sure ADB is running in the background.

Run the file named 'install.bat' from the unzipped files.

Cross your fingers control your pulse rate as the flashing is done.

The phone will reboot in around 5 minutes.
This was just too easy now wasn't it? Nonetheless, congratulations! You are one of the few people out there who just installed the first custom ROM on an Atrix 4G. What are you waiting for, go out and show it off to your friends! For updates, and queries or any assistance required please visit the forum thread at XDA-Developers, but before you do that, do let us know how this ROM faired for you.