Install CyanogenMod 7 Nightly Android 2.3 Gingerbread On HTC myTouch 4G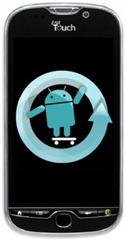 The CyanogenMod development team has been quite busy lately, releasing nightly builds for everyone's favorite custom Android ROM for several devices. We have already brought you CyanogenMod 7 nightly builds for some of the devices and this time, it's one for the HTC myTouch 4G. Read on for details, download link and installation instructions.
This ROM is in the series of our coverage of CyanogenMod 7 nightly builds for several Android devices where you can learn more about it as well as find links to our coverage of versions available for other devices.
Disclaimer: Please follow this guide at your own risk. AddictiveTips will not be liable if your device gets damaged or bricked during the process.
The installation process is pretty standard. Just download ClockworkMod Recovery 3 image from the link given below, extract the recovery image from the zip file and install it using one of the manualmethods at our guide on how to install a custom recovery image to your Android device. Update: You can now just install the latest version of ClockworkMod directly from ROM Manager and proceed like normal.
Once you have flashed ClockworkMod Recovery 3, download the latest CyanogenMod 7 Nightly ROM from the link given below and flash it to your device from recovery. Make sure to take a backup first, followed by wiping data, cache and dalvik cache.
If you want to install Google Apps as well, you will have to use a version that works with CyanogenMod 7. We are attaching one here that you can download and install to your device from recovery. Taking a backup first will be a good idea. There's no need to wipe data, though wiping cache won't hurt.
CyanogenMod 7 Nightly ROM for HTC myTouch 4G
Google Apps for CM