Install CyanogenMod 7 Nightly Android 2.3 Gingerbread ROM On HTC Desire HD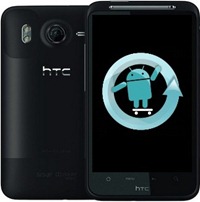 Great news for all you CyanogenMod fans – the official CyanogenMod 7 nightly builds are being rolled out as we speak and they are stable enough to use on daily basis. We have already featured one for the T-Mobile myTouch 3G Slide earlier today and now we are bringing you one for HTC Desire HD.
CyanogenMod 7 is our favorite custom Android ROM and we never let it get neglected, be it a nightly build. Unlike the nightly or pre-beta builds of most software, this ROM is quite stable and several users have been using it as their daily use ROM without any major issues. The complete list of features will be published once the official version is released but to give you an idea, you can at least expect everything that CyanogenMod is famous for, plus Gingerbread features.
Disclaimer: Please follow this guide at your own risk. AddictiveTips will not be liable if your device gets damaged or bricked during the process.
To install this ROM, download it from the link given below and flash it to your phone from recovery after taking a backup and wiping data as well as cache. For detailed instructions, check out our guide on installing an Android ROM from recovery.
Note: We are not linking directly to the downloadable file as newer nightly builds will be added very frequently by the developers. To grab the latest nightly build, just choose the top most listed build with nightly as 'Type' when downloading the ROM from the link given below, Once a release candidate or final release is available later, you can also download it from the same link.
Download CyanogenMod 7 Nightly for HTC Desire HD
Google Apps