Install CyanogenMod 7 On HTC Universal [How To]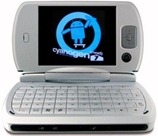 HTC Universal gets CM7! This is huge news, but only if you understand and know how old the HTC Universal actually is. The device dates back to 2005 and was the first 3G capable phone released with a 3.5" VGA pivoting screen. Originally shipped with Windows Mobile 5.0, the device got a port of the Android 2.2 Froyo for it self sometimes back. Now thanks to XDA-Developers forum member notime2d8, the device has received the much popular Gingerbread based CM7 ROM. However, the project isn't fully complete with the Wi-Fi and modem/phone functions broken. Also, this ROM is meant for the 128mb RAM devices, not the 64mb ones and understandably so. If you have the 128mb model lying around and are eager and curious on trying out new stuff on your old devices despite the the phone and modem issues just because you're an Android fan, read on after the break for installation instructions and downloads!
According to the developer, "It works ok after it settles and i usually have 51mb of ram free with ~9 to 12mb being used by settings so maybe 63mb free at idle with nothing running."
"I haven't done any real tweaks or tested if zram or swap allows it to run on my 64mb universal. I will try to post a video when i get some time of it running on mine with my class10 sd card. Before you say that its not working make sure that your memory card is being mounted when the kernel is being loaded, if not try reinserting it before android tries to start."
Disclaimer: Please follow this guide at your own risk. AddictiveTips will not be liable if your device gets damaged or bricked during the process.
Requirements:
Spare SD card of at least 250mb.
SD card partitioned as follows:
/dev/sdb1 – 40 MB FAT32
/dev/sdb2 – 150 MB EXT4
Instructions:
To begin, download the sdboot.zip from the link above and the files found in the link to the SD Card files.
Extract sdboot.zip and copy the files to the root of the EXT4 partition on your SD card.
Copy all the files downloaded from the SD Card files link, to the FAT32 partition.
Make sure that you are not in Flight mode, and that only phone and Bluetooth are on, not Wi-Fi.
Start the haret-w executable from Windows Mobile and press RUN.