Install CyanogenMod 7 ROM On HTC Desire HD With Battery Drain Fix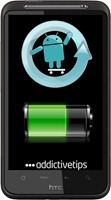 HTC Desire HD is currently one of the hottest Android phones out there and its only fair that such exceptional piece of hardware be united with the one of the best custom ROMs available: CyanogenMod. The CyanogenMod team has been hard at work cooking the latest, Gingerbread based CM7 ROMs for a lot of popular high end devices out there and while it is still undergoing development for most of these devices, even the release candidates are pretty stable and worth a try. Below a step by step guide on how to install CyanogenMod 7 on your Deside HD.
Disclaimer: Please follow this guide at your own risk. AddictiveTips will not be liable if your device gets damaged or bricked during the process.
Requirements:
Procedure:
Download the CyanogenMod 7 RC2 ROM for the HTC Desire HD and place it on the SD card.
Download the Google Apps for the CyanogenMod 7 and place it on the SD card.
Power off your phone and boot into recovery.
Perform a Nandroid backup incase you want to move back to your current ROM.
Perform a data/cache wipe and a Factory reset to avoid post installation problems.
Use 'Flash zip from SD card' to install CyanogenMod 7 RC2 that you downloaded.
Use 'Flash zip from SD card' to install Google Apps that you downloaded.
Once installation is complete, perform a cache wipe to get rid of any residual junk memory.
Reboot system to complete installation and boot into CM7.
Congratulations! You now have Gingerbread based CyanogenMod 7 installed on your device. However this release candidate is known to have one issue, due to the DSP chip not switching off – it causes a battery drain on the device even when its on standby. Until an RC3 or a stable mod is released, please read below to fix the battery drain issue:
Procedure to apply to fix battery drain:
Download the battery drain fix and transfer it to your SD card.
Power off your phone and boot into recovery.
Use 'Flash Zip from your SD card' to install the zip to your ROM.
Reboot once installation is complete.
This procedure basically turns off the aic3254 dsp chip which is causing the battery drain on the device. Let us know how your battery turns out after the installation.
For updates, suggestions and issues regarding the ROM please visit the Cyanogen at XDA-Developers forum thread.
For issues regarding the battery fix drain please visit the thread here and here, since the fix is currently under development. The issue has been fixed in the latest version.