Install CyanogenMod 7 ROM Port On Samsung Galaxy 5 I5500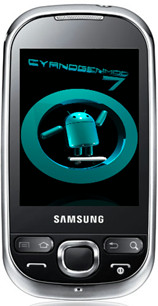 The Galaxy 5 I5500, also known as the Corby I5500 has been around in the Android world since June 2010. The phone is one of the lower-end budget friendly Android devices out there who's time is running out as new devices and ROMs arrive on the scene. However, XDA-Developers forum member subpsyke has recently ported the famous CyanogenMod 7 custom ROM on to the Galaxy 5 which has just given the device a new lease of life. More on the ROM and how to install it after the break.
The release is CM 7.0.3 based on Android 2.3.3 Gingerbread but far from perfect. In no way is this ROM meant as a daily driver, but for those who know their way around ADB, recoveries, ODIN etc., can give this ROM a try and provide the developer with feedback that could help in fixing the bugs or issues that remain. So if you do wish to give it a try, let us point out the working and broken features.
3G, Audio, Video, Microphone, SIM Contacts, Camera (Video/Still), Bluetooth and Brightness controls are functioning properly.
GPS is working, but does not work with the newest Americas baseband ending with JP9.
Wi-Fi works and Wi-Fi tethering also works.
Multi-touch does not work at this point but is being worked on.
Hardware sensors are only partially working with Auto-rotate draining your battery so it's suggested you turn that off. Turn it on and then off after every reboot as well.
Calls are functioning but when you first start your phone and receive the call via the hardware button, the phone will reboot and you will even loose the last call history. Making an outgoing call when your phone boots will let you be able to receive calls without the reboot bug. However you must do this after every reboot.
Now that you understand what you're dealing with, let's flash the CM7 ROM on your device.
Disclaimer: Please follow this guide at your own risk. AddictiveTips will not be liable if your device gets damaged or bricked during the process.
Requirements:
ODIN installed on your system (Not required anymore; see the last requirement in this list.)
Samsung USB drivers installed. Download USB drivers for 32 bit Windows | For 64 bit Windows.
CyanogenMod 7 ROM (Not available anymore; get version7.1 instead by following the procedure on the XDA thread link below.)
Instructions:
To begin, download the ROM from the link above and extract it to find a .tar file.
Run ODIN, check the One Package option and click on the One Package tab choosing the .tar file you extracted in step 1 when prompted. (If you're coming from a Froyo or Éclair based ROM, be sure to do a factory reset.)
That done, put your phone in download mode by taking the battery out, putting it back in after 5 seconds and pressing the Volume Up key, Center button and the Power button at the same time.
Once done, connect it to the PC via USB and click on Start in ODIN.
Once the ROM is flashed, the phone should reboot into CM7. The first boot will be slower then normal and you may see a bootloop but that is normal.
For updates and queries, visit the forum thread at XDA-Developers.