Install English MIUI 1.5.13 Android 2.3.4 On HTC Desire [GSM]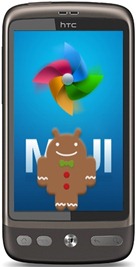 Earlier we had covered installation guides for MIUI 1.5.6 ROM based on various Android devices. A week later the developers updated the release to 1.5.13. HTC Desire was also one of the few devices that received the new MIUI 1.5.13 custom ROM. In case you're unfamiliar with what MIUI ROMs are, you should see our guide on what is MIUI ROM for Android. More on the ROM and how to install it on your Desire after the break!
Below are a few features of the ROM. Additionally you can check out the changelog at MIUI Android Developers (not available on new MIUI Android website)
The ROM base has been upgraded to 2.3.4.
Added one press dial functionality: quickly call up number with one press.
Added reminder notification of new messages.
Added Birthday reminder functionality, reminds of birthdays 3 days earlier.
Removal of duplicate contacts when your SIM and Google contacts overlap.
Added swipe to delete or select all songs for editing or removal.
Disclaimer: Please follow this guide at your own risk. AddictiveTips will not be liable if your device gets damaged or bricked during the process.
Requirements:
Instructions:
Download the ROM and language pack from the links above, and copy them to the root of your SD card.
Reboot into recovery mode and flash the ROM, but be sure to make a nandroid backup.
Optionally flash the language pack after you've flashed the ROM.
In case you are not familiar with flashing ROMs via recovery, you should see our comprehensive guide on how to install a ROM or zip file via recovery on an Android device.
Optionally you can also check out our post on 10 awesome MIUI themes for Android.
For updates and queries related to this ROM, visit the forum thread at MIUI Android.