Install HTC Sense ROM On Samsung Galaxy S Phones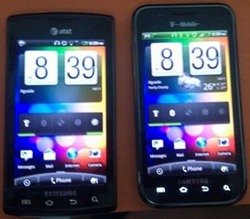 No, your eyes are not deceiving you. Pictured here is an AT&T Captivate and a T-Mobile Vibrant running Android with – you guessed it right – HTC Sense! If you are using any Samsung Galaxy S series phone, you too can try out the Sense experience on your device right away. It is an experimental build intended for developers and a lot of features not working, but it serves as an example of how the Sense UI can be ported to other devices. Continue after the jump to find what's working and what's not, and how to get it.
Disclaimer: Please follow this guide at your own risk. AddictiveTips will not be liable if your device gets damaged or bricked during the process.
This ROM is brought to you by TeamGalaxySense of XDA-Developers forums and is an alpha release of the work they have done so far which they have released for developers to fix and further enhance, so if you are a developer, feel free to modify it and in case you get it to work, head over to the XDA-Developers forum thread and let them know about it. Please don't contact them regarding feature requests or bug reports, as it seems that they will not likely be continuing their work on the build.
Apart from the Android and Sense UI, they have managed to get WiFi, Audio, SD card, charging and Hardware/software keys working. Bluetooth and GPS are partially working while camera, phone service, HTC USB menu, HTC hibernate mode, lock screen and a few other features aren't working. The power button isn't working but they have added a menu for rebooting the device.
To install this ROM, download it from the link given below, copy it to the root of your SD card, reboot your phone in recovery, take a nandroid backup, wipe data, cache and dalvik cache, and install the zip from the SD card. Once flashed, reboot your phone and you'll be running the Sense ROM on your Galaxy S.
Download I900 Alpha HTC Sense v0.5