Install Hydrogen Android 2.3.5 Gingerbread CM 7 ROM On HTC Desire S [OC 1.8 GHz]
HTC Desire S received some awesome S-OFF treatment at the hands of Revolutionary – A joint effort of Unrevoked and AlphaRev – and since then custom ROMs are flooding in Android portals, forums etc for this phone. Hydrogen S 1.8 Android 2.3.5 Gingerbread custom ROM for Desire S is one such great effort from XDA senior member Proxuser. The ROM is meant for all those who are looking to gather the Android 2.3.5 awesomeness in collaboration with some sweet hacks and tweaks to unleash the real potential of their device.
Here are some important features of this ROM for Desire S:
Android 2.3.5 Gingerbread
Based on CyanogenMod 7
Original Ringtones, Alarms etc. from Sense.
Touchwiz Theme
EXT 4 FS
The ROM is empowered by a custom kernel that beefs up CPU speed to a massive 1.8 GHz. So far the user reaction to this ROM has been great and some have even testified in favor of a great battery life it delivers.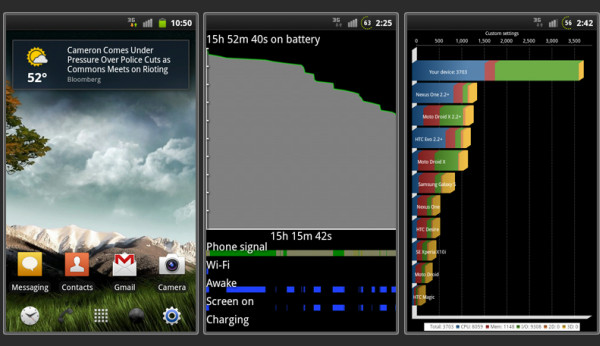 Here are step by step instructions to install this ROM on your Desire S:
Disclaimer: Please follow this guide at your own risk. AddictiveTips will not be liable if your device gets damaged or bricked during the process.
The first step is to make sure that you have S-OFF on your device along with permanent root privileges and custom recovery. If that's not the case, then you can gain S-OFF following the guide here.
Once you have prepared your Desire S for flashing, download the ROM from here (ROM not available anymore; development halted as well) and save it on your SD Card or SD ext.
After this, reboot your device into recovery and make a Nandroid backup of your current settings.
Now do a complete Wipe / Factory Reset from recovery.
Once done, use Install Zip from SD Card and flash / install the ROM file you earlier copied to SD Card root.
Once the installation is complete, reboot your device and set it up normally.
Now download Front Camera Fix by Zas666 and Keylight Fix (not needed anymore in the ROM update; skip this step) followed by flashing them on your phone through recovery using Install Zip from SD Card option.
And there you go! You are all set to test the rock stable near-to-stock GB ROM on your Desire S. In case you are facing any issues or need Live developer support, then head to the official XDA ROM thread posted here for further guidance and issue resolution.