Install MiTime To Use FaceTime On Your Carrier Unlocked iPhone 4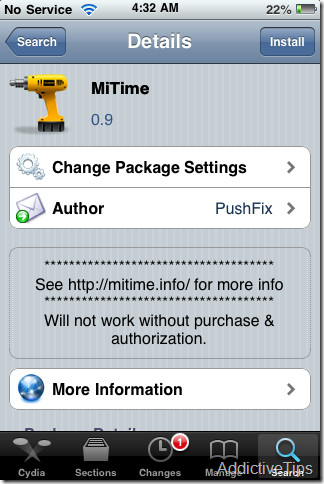 Although we are not bent on introducing paid software or apps but at times they are the only solution to certain problems. Many of us have jailbroken and unlocked our iPhone 4 but we do miss FaceTime, which unfortunately doesn't happen to run on carrier unlocked devices. But now you can do FaceTime on your unlocked iPhone 4 by simply installing MiTime, which costs $5.99 on Cydia Store.
All you need to do is to launch Cydia, Add https://cydia.pushfix.info as a repo, search for MiTime and complete the purchase to install the app. Once the installation is done, you will simply need to launch the application and follow onscreen instructions to use FaceTime on your jailbroken and unlocked iPhone 4. Please note that we won't recommend this application for multiple SIM card users as you will need to register one phone number while you are purchasing the app. You won't be able to use this application in case you change your SIM card often as the authorization of this application is done through the phone number in your iPhone's settings.
You can follow the detailed step by step instructions laid down here if you are facing any problems using this applications. The author of this app is also available on twitter for help and you can tweet @Pushfix if you want some hands on help.
Here is the Video Installation and walkthrough guide for MiTime in order to activate FaceTime on your iPhone 4.
Please do let us know if you have a method that can allow users to run FaceTime on their jailbroken and carrier unlocked iPhone 4 for free.