Install NoDo Update On Windows Phone 7 (WP7) With ChevronWP7 Updater
The NoDo update for Windows Phone 7 is all the hype right now with people unwilling to wait out for OTA updates that have actually rolled out, but this seems like ages for those eagerly waiting for this miracle to happen. A few days back we covered a guide on installing the NoDo update on a WP7 device manually. While the prospects were quite exciting, the method itself was a shot in the dark for many. It worked for some perfectly while not so perfectly for the rest. This time around, Chris Walshie a WP7 software developer has put together a much easier to use tool that involves no internet disconnections while you play with a stopwatch. Read on to install the NoDo update on your WP7 phone!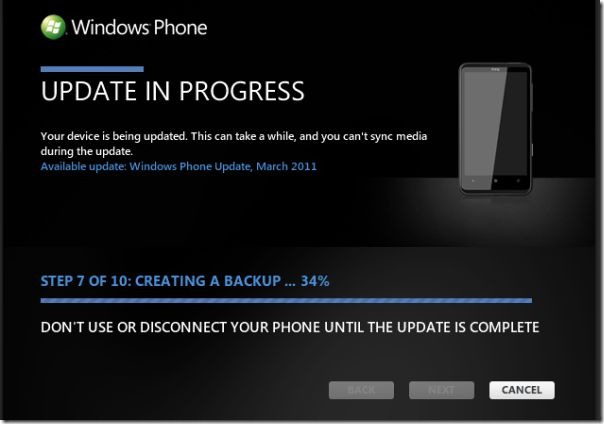 According to Chris, this easier method was put possible all because Microsoft released some new Windows Phone support tools. These tools contained some "hidden gems" inside them and Chris has successfully exploited them. Please note that there is no going back, you cannot revert back once the update is flashed.
So why wait, let's get started with the update!
Update: There have been newer releases of the operating system since this update that have patched the exploits used by ChevronWP7. Furthermore, Chris Walsh has ceased development on the tool and his blog that hosted the files isn't online anymore either. This guide is no longer relevant, unless you know exactly what you are doing.
Disclaimer: Please follow this guide at your own risk. AddictiveTips will not be liable if your device gets damaged or bricked during the process.
Requirements:
For Windows 32bit: Windows Phone Support Tools | ChevronWP7.Updater (Not available anymore)
For Windows 64bit: Windows Phone Support Tools | ChevronWP7.Updater (Not available anymore)
Instructions:
To begin install the support tools and extract the ChevronWP7.Updater.zip to your desktop.
Check the Language being used on your phone. Go to Settings > Keyboard.
Now plug your phone in and wait 30 seconds.
Run ChevronWP7.Updater.exe (this would kill zune) and check that the language used in your phone (as checked in Step 1) is available on the Console opened up. If the language is not available, do not try to risk it, some apps may not work otherwise.
Once you select your language, continue following the on screen prompts from the console app and you'll be done in no time!
For updates and queries, visit Chris Walsh's Blog (taken offline).