Install Ubuntudroid Custom Android ROM on LG Optimus One P500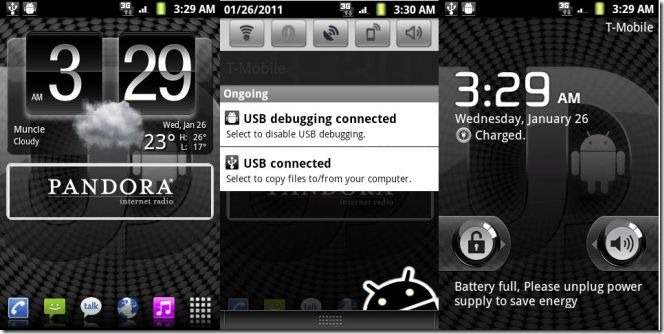 Ubuntudroid is a custom Android ROM for the LG Optimus One P500 that brings several enhancements and additional features over the stock ROM shipped with the phone. Released earlier today, it is available for you to install on your device right away. Feature list, download link and installation instructions are after the break.
Ubuntudroid has been developed by XDA-Developers forum members one_love_420, didgejcr and Joeseph Mother. While the name of the ROM might make you think that it is a Ubuntu build for Android, that's not the case and the reason behind using this name has not been mentioned by the developer. Amongst the features included in this ROM are:
Overclocked kernel,
Custom boot animation,
Custom black theme,
Zeam launcher
Themed Fancy Widget,
Transparent Pandora widget,
Prop editor,
Removed T-Mobile bloatware,
Linpack,
Quadrant.
Quick Settings for Wi-Fi tethering,
Connect bot,
Barcode scanner,
Android 2.3 Gingerbread Keyboard,
Swype Keyboard,
Search button remapped to Call
and many more.
Disclaimer: Please follow this guide at your own risk. AddictiveTips will not be liable if your device gets damaged or bricked during the process.
If you want to install this ROM to your phone, download it from the link given below and flash it from recovery after wiping data, cache and Dalvik cache. Don't forget to take a backup first. If you are unfamiliar with any of these steps, refer to our guide on how to install an Android ROM from recovery.
If you come across any problems and need help with them, want to report errors or request features, feel free to head over to the XDA-Developers forum thread and join the discussion.
Download Ubuntudroid RC1 for LG Optimus One P500