iOS 5 Newsstand Brings All Your Newspaper & Magazine Subscriptions Together
Newsstand is one of the new features introduced by Apple in iOS 5 that aims to bring your newspaper and magazine subscriptions together under one app. Announced at the WWDC 2011 and discussed again in today's Let's Talk iPhone event, Newsstand is designed to be the central hub for the digital versions of all your periodicals on all your iOS 5 devices including iPhone, iPad and iPod Touch.
Tablets are fast replacing printed publications and that holds true not only for books, but even more so for periodical publications such as newspapers and magazines. While iOS devices have had the iBooks app for a while to take care of your book library, a dedicated app for periodical subscriptions was missing and such publications had their own dedicated apps for the purpose. While that model also worked, it didn't give users a streamlined experience as all those apps used their own layouts despite serving very similar nature of content, merely with different subject matters. That's something Newsstand takes care of.
Note: At the moment, the version included with iOS 5 GM version is not fully functional as the Store button that takes you to the App Store's section for compatible publications is disabled, so you'll have to wait till October 12th for the final version of iOS 5 to roll out to your device, to be able to use it. Once it does, you will see compatible apps available from leading publications such as The New York Times, GQ, Allure, Vanity Fair and a lot more.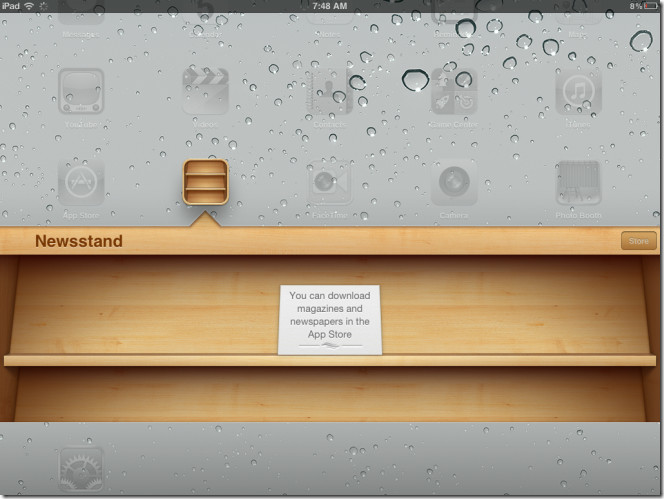 Newsstand looks like just another app on your Springboard but upon launching, it merely expands like a folder. Unlike regular folders though, you see a wooden racks interface similar to that of iBooks. There is a Store button that takes you to the App Store's section for Newsstand compatible publications, which you can install from there and they will show up in Newsstand.
Another useful feature of Newsstand is that it will give you notifications and an unread count badge on the Newsstand icon whenever a newer edition for your subscribed newspapers or a newer issue of your magazines is available. The new issues are downloaded automatically in the background so all you have to do is select and install your favorite publications from the App Store and forget about them, meaning there's no need to check apps individually for updates.
In conclusion, Newsstand attempts to unify all your publications into a single streamlined interface to make your news and magazine reading experience on iOS devices much more pleasant. Amongst the several new features of iOS 5, it is certainly poised to become a welcome addition.
---
This guide is part of the 10 new features in iOS 5 – the latest operating system from Apple for their iDevices.
Newsstand (Currently viewing)