iPhone Control Through Camera Gestures – Apple Patent Reveals
Patently Apple has brought forth an interesting piece of information. A patent filed by Apple, published Feb. 25, 2010, by the US Patent and Trademark Office, reveals that Apple is considering a design to help users of iPhone control their incoming calls and voicemail by simply swiping their finger over the external camera lens.
Read the excerpts from the published patent below.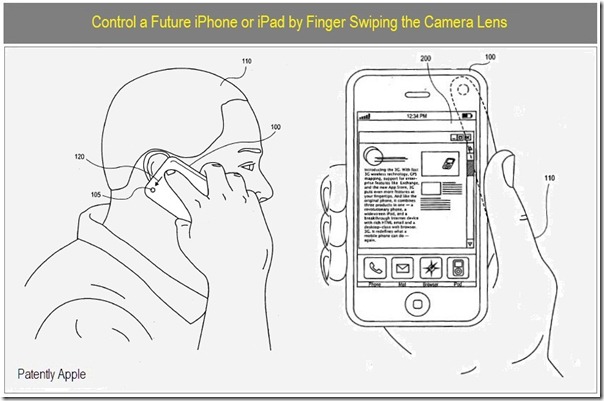 In one embodiment of the invention, one can control functions of a portable handheld electronic device by swiping a finger across a camera lens of the device. In other embodiments, the user can control voicemail functions by tapping the device, which causes the device to vibrate or move. In one embodiment, to access his voice mailbox, a user may tap the phone to cause playback of a message to pause, tap the phone again to resume playback, swipe his finger over the camera lens in one direction to fast forward playback, and swipe his finger over the camera lens in another direction to rewind playback. These actions allow the user to control functions of voicemail review without removing the device from over his ear.
In another embodiment, functions for controlling call features utilize similar user actions or motions. Features such as merging multiple calls, putting a call on hold, and switching between or among multiple simultaneous calls may be controlled by single or double (or any number of) taps of the device, as detected by an accelerometer of the device. These taps may be preprogrammed by a manufacturer, or selected and programmed by a user.
Furthermore, a user may navigate a document being shown on a display screen of the device by guiding his finger over the camera lens. While viewing the display screen, the user holds the device in the palm of his hand in a supine position. Rather than pressing or sliding directional buttons next to the screen or touching a touch screen to navigate a webpage document or contacts list, the user may move his finger over the camera lens in the direction he wishes to navigate the page. For example, gliding the finger over the camera lens in an upwards direction navigates the page in an analogous upwards direction. Doing so allows the user to easily steer the display of the device in any direction, with the same hand that holds the device.
You may check out the complete patent claim here.