iTunes Movie Trailers For iOS 5: View Movie Ratings/Trailers & Locate Nearby Theaters
Apple certainly knows a thing or two about customer satisfaction, as can be judged from the size of the iPhone's fan-base. And when it comes to designing apps, they do that to perfection too. The newly released Trailers app is a testament to that. In addition to being a really attractive app, it is sure to be deemed one of the most comprehensive iOS  apps for everything related to movies.
After you launch the app, the first thing that will greet you is the Featured section of Trailers. On this page, you will see some staff-picked movies displayed. If you want this section to show titles from only a specific category, tap the Genre button at the top left of your iPhone or iPad's screen. From here, you can set any homepage category you want. Apart from categories, you can also set the app to display only Exclusive movies. On the same page, you'll find the search box, meant to help you look for movies whose trailers you want to watch. The banner at the top of the featured page can be swiped left/right to view more titles.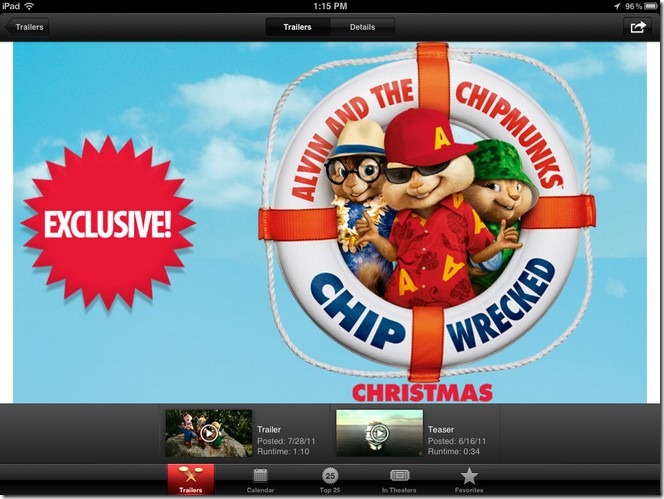 Tapping on a movie's allows you to view its description, trailers and teasers. The app also displays show times for each movie, which you can even sort based on your current location. Want to share a trailer you like? Simply hit the arrow button at the top of the screen and you can send the link via E-Mail or Twitter.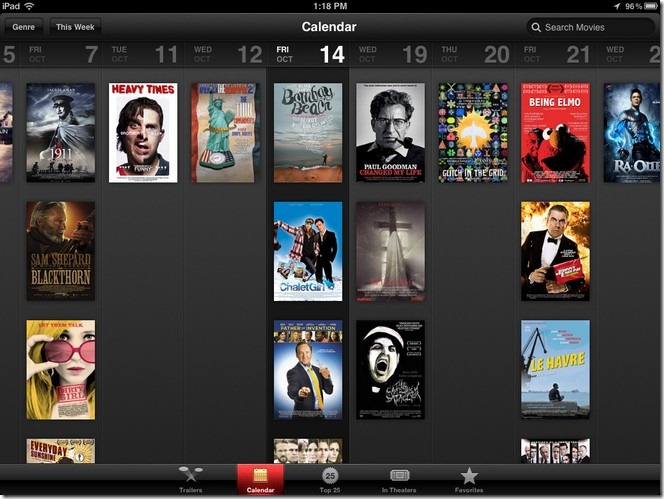 The Calendar section of the app is probably the most useful one. In addition to letting you view the release date of any movie, it serves as a reminder app for upcoming movies you just don't want to miss. To make sure you keep track of your finds, you can add any movie to your favorites or buy it if it's available on iTunes.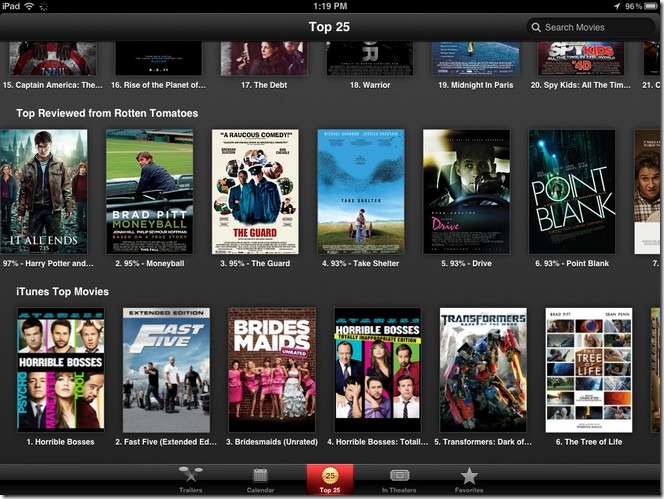 In Theaters is a handy little section of the app where you can find out which movie is currently being shown in a theater near you. From within the Top 25 tab, you can view titles categorized on the basis of their reviews, number of iTunes downloads and the ratings they have received from other sources.
Being an app by Apple, Trailers is available for free at the App Store and can be downloaded at the link given below. One thing is sure, if you are a movie fan, you are guaranteed to enjoy this app.