How To: Jailbreak iPhone 3G / 3GS And iPod Touch 2G iOS 4 On Windows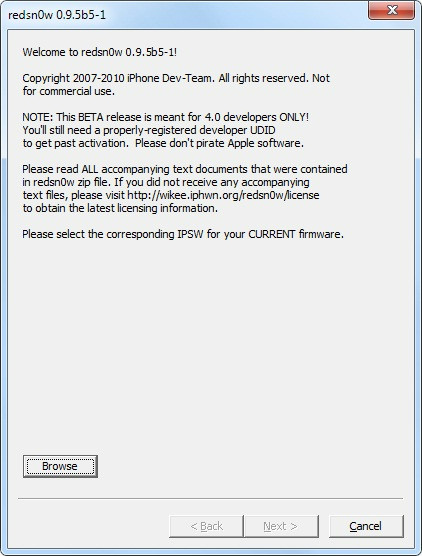 Redsn0w 0.9.5 for windows has been released and here is the step by step guide on jailbreaking iPhone 3G/3GS And iPod Touch 2G on Windows.
Please note that before applying this jailbreak for iOS 4 through Windows, you need to have an official carrier SIM card because there is no unlock tool bundled.
The first step is to make sure that you have already activated your iPhone3G/3GS or iPod Touch 2G with iTunes and your iDevice is running iOS 4.
Now

download redsn0w 0.9.5

for Windows and keep the installation file on your desktop [ or wherever you prefer].
After this, navigate to Redsn0w file you just downloaded and execute it. Click "Browse" and select iOS 4 .IPSW file that you used for updating your device through iTunes.
Now check "install Cydia" radio button and click next.
After this you will need to power off your device and connect it to your Windows based Desktop/laptop. Please double check if your device is properly powered off and is properly plugged into the computer.
Now boot your device in recovery mode by simultaneously pressing down "power" and "home" button.
After this, swiftly press down "power" button along with "home" button. After some time, release the power button while still holding on to the home button until you can see installation begin.
Now release the home button and wait for the installation to complete. Your device will reboot automatically after installation and you will have your iPhone 3G/3GS or iPod Touch 2G jailbroken on iOS 4.
Disclaimer: Please make sure that you have ample hands-on jailbreaking experience before trying your hands on this one. Addictivetips won't be liable for any damages that may incur to your device during the process
Update: Sorry guys! It seems as if this jailbreaking is for iPhone 3G and iPod Touch 2G at the moment. If you are using Mac, check out the iPhone 3GS jailbreaking guide here.